5 chefs going the extra mile for the earth and sustainability
Published on
April 29, 2019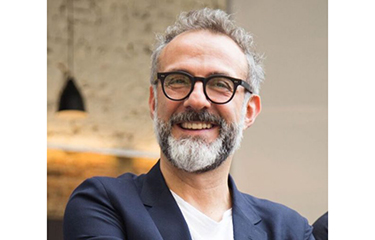 1. Massimo Bottura, chef for Osteria Francescana in Modena, Italy
Reading this overture to his restaurant, Osteria Francescana, diners rightly sense this chef has a closeness with nature and his environment: "Our kitchen is not a list of ingredients or demonstration of technical abilities," it states. "It is a narration of the Italian landscape and our passions."
But Bottura's care for the planet and its citizens is far wider reaching than just his restaurant.
Partnering with Pope Francis, this innovative chef turned an abandoned theater into Refettorio, Food for Soul. The word "Refettorio" comes from the Latin reficere, meaning both to re-make, and to re-use, an apt name for the establishment, which has turned over 20 tons of excess food for the needy and refugees. Since that time, Bottura has expanded to operations in London and Rio de Janeiro and inspired chefs around the world to follow suit.
Chef Bottura has also been an active member and leader of the Oceana campaign Save the Oceans: Feed the World. He and a select group of influential chefs are participating in a campaign to create seafood dishes to inspire individuals to become more mindful of choices, and help bring the oceans back to a healthy biodiversity.