5 spellbinding seafood dishes for Halloween
Published on
October 31, 2017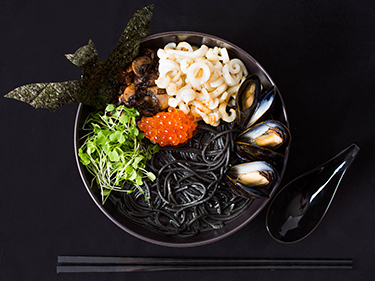 5.) Squid Ink Seafood Ramen
A seafood-saturated cauldron sure to bewitch dinner guests of all sorts, this recipe features mussels, salmon roe, seared squid, nori and squid ink pasta, for eerie effect.
"This bowl of seafood ramen takes Halloween food to a whole new level, capturing the spirit of the holiday while being legitimately good enough to eat any other day of the year," said Serious Eats' Daniel Gritzer of the dish.
To make enough ramen for four to six people, cooks will need two teaspoons of squid ink; half a pound of squid bodies, split open lengthwise and then sliced into thin strips; two pounds of mussels, washed with beards removed; two ounces of salmon roe; and sheets of nori.
Full recipe details: http://www.seriouseats.com/recipes/2014/10/halloween-ramen-seafood-soup-recipe.html