5 ways to get kids eating more fish
Published on
April 12, 2019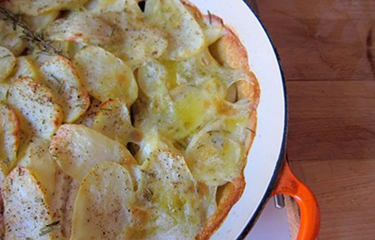 1. Keep it comfortable
There is no doubt that carbohydrates are comfort food and all kids have their favorites, whether it's pasta, rice, potato, or noodles. That love of carbs is a good way to introduce kids to seafood. Start with adding something milder like prawns, halibut, or trout, and then ask children to make the next suggestions. Have them break cooked salmon into chunks and dot it through pasta, or have them watch how prawns change color before adding cooked rice for a tasty fried rice.
This dish was created by Charity Curley Mathews, author of the blog Foodlets. The blog is dedicated to crafting recipes for kids, inspired by several years of living in Italy where she observed children being much more accepting of all kinds of foods, and where food and meal-times are the backbone of society.
This recipe for roasted fish with potatoes was created after a lunch with an elderly lady in the seaside town of Nettuno, near Rome. It's a great recipe for people who don't call themselves "fish" people, according to Mathews. A crunchy layer of potatoes lays like pastry over a bed of white fish, with a light tang of lemon and a burst of rosemary. It's easy to make, and kids will love layering the potatoes themselves.
Roasted fish with Potatoes (pesce e patate al forno) Serves 6-8
Ingredients
1 pound of potatoes peeled and very thinly sliced
4 tablespoons extra virgin olive oil
2 pounds firm white fish fillet such as sole, bass, red snapper or mahi mahi
1 tablespoon fresh rosemary, minced
2 tablespoons fresh lemon juice
salt and pepper
Method
Heat the oven to 400 degrees.
Rinse the fish and use a paper towel to gently dry. Lightly season both sides with salt and pepper.
In the baking pan you'll be using to roast the fish, pour a dash of oil but add the potatoes first. Mix them around with your hands until they're covered in oil. Move to the side and place the fish in the center. Drizzle with oil. Rearrange the potatoes in a thin layer on top of the fish and over the sides. Pour the rest of the olive oil, rosemary, lemon and enough salt and pepper to lightly coat the potatoes.
Bake for about 20 minutes, until the potatoes are roasted and the fish is cooked through.