5 ways to get kids eating more fish
Published on
April 12, 2019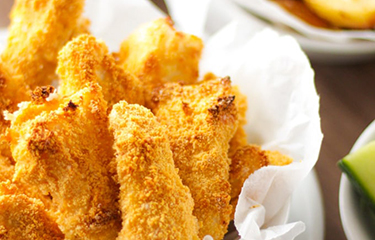 2. Give it some crunch
Fish fingers or fish sticks are often one way parents try to coax their kids to a fish meal. But sometimes these can be full of ingredients that counter the positive attributes of fish.
However, fish fingers are very easy to make at home, and home-cooking can even create a crispier crust by using cornflakes or oatflakes. And this is one all ages of young people love to do, dipping the fish into an egg wash before dousing with crumbs.
This recipe from Taming Twins Blog, was created for a holiday on the beach at Cornwall and had to be simple to make. The author recommends a firm white fish such as cod, but also says that salmon can work well in the recipe. As they are baked in the oven, you'll also avoid unnecessary fats.
Home-made Fish Fingers (Serves 4)
Ingredients
500 g firm white fish fillet skinless and boneless, cut into strips
100 g plain flour
salt and pepper
medium free-range eggs, beaten
150 g breadcrumbs
Method
Preheat the oven to 180C and line a baking tray with baking parchment.
Mix your flour with a little salt and pepper.
Take your fish fillets and one at a time, dip into the flour, then the eggs and finally the breadcrumbs. Place on your lined baking tray.
Bake for 20 minutes until golden and cooked through.