Famous chefs pick their favorite seafood dishes for Thanksgiving
Published on
November 22, 2017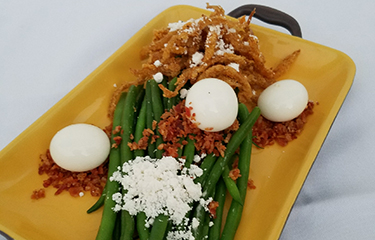 2.) Baked fresh halibut
Simply seasoned Alaskan halibut is a beautiful main dish to serve at a Thanksgiving table, according to Mike Molloy, executive chef of The Don CeSar resort in St. Petersburg, Florida.
"In my family for Thanksgiving, we have always had more than just the traditional turkey and stuffing. Alaskan halibut is a must with its mild, sweet-tasting flavor and a firm, but tender, texture," Molloy said.
Sourcing fresh – not frozen – halibut is one of the best ways to ensure a great dish, Molloy said.
"Frozen halibut tends to be water-clogged and will take away from the true flavor of the fish," Molloy said.
To prepare, simply season the fish with salt and white pepper, pan sear it and bake it with a little white wine, whole butter and a few sprigs of fresh thyme and rosemary. Finish it with a squeeze of lemon juice.
"I appreciate how hard the fish and fisherman worked to get me a great fish, so I like to let the true flavor of the halibut speak for itself," Molloy said.