The Top 25 Seafood Product Innovators – 2021 Edition
Published on
September 28, 2021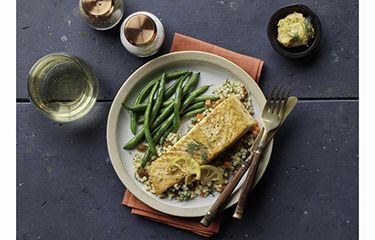 Giant Food
Landover, Maryland, U.S.A.-based Giant Food – which operates 164 grocery stores across Virginia, Maryland, Delaware, and Washington D.C. – debuted its private-label Cook-in-Bag line of meal solutions featuring meat and seafood in January 2021, looking to capture consumers on the hunt for convenient entrees to prepare at home during the COVID-19 pandemic and on the way out of it.
Among the seafood selections available in the private-label range are Mediterranean cod, lemon dill scallops, Chesapeake Bay-style shrimp, and bourbon salmon. Comprised of 14 varieties total, the range is packaged in oven-ready bags that require minimal clean-up and can be eaten in an hour or less, the company said.
Although the pandemic has spurred a surge in at-home cooking and consuming that has benefitted seafood and other food industries, it has left many people weary in the kitchen, hence the creation of Cook-in-Bag products, Giant Food Chief Merchandising Officer and Senior Vice President Tonya Herring explained.
"Our Cook-in-Bag products offer flavorful and simple meal solutions, particularly at a time when many are experiencing cooking fatigue at home," Herring said. "These dishes allow families to explore new recipes that can be paired with any favorite side dishes with minimal preparation which helps to save them time so they can get back to what matters most."
The convenience range is the latest addition to Giant's private brand portfolio, which includes thousands of items throughout the store under various lines such as Nature's Promise, Taste of Inspirations, Smart Living, Always My Baby, Companion, Etos, CareOne, Artisan Wine, and Artie Wines.
Giant Food told SeafoodSource it has seen crab legs and crabmeat, shellfish, and plant-based seafood analogs resonating over the course of the last 18 months.
As restaurants have closed and re-opened, the company noted that customers have been able "to prepare meals with crabmeat, now more than ever."
"We are challenged every week to keep up with rising costs and demands to ensure our customers are able to find products to fill this need," it said.
Additionally, halfway through this year, Giant Food "launched a full assortment of local clams and mussels available by the each, or in retail packaging."
"Customers were starved to find restaurant-quality seafood that is fresh and local," the firm said. "This year, we answered that demand with expanded assortment of fresh, local Chincoteague clams and oysters that are available every day."
Moreover, its partnership with Good Catch has allowed the retailer "to bring three plant-based innovations in 2020, and two additional options in 2021."
"Plant-based products have really resonated with our customers. In seafood, it is no different. We want to ensure whether customers are looking for a meat alternative or plant-based entirely, they can find it at Giant Food's seafood department," the company said.
As has been the case for many, the pandemic has had a big impact on Giant Food's innovation process.
"Many suppliers are facing production and supply challenges," it said. "It's really all about working with our vendor partners to find and understand what is available during this pandemic."
As far as seafood is concerned, next year Giant Food will focus on "fresh and local," it confirmed.
"In seafood, many of our products are sourced globally, but we're refocused on enhancing our local offerings to include local crabmeat, shellfish, and local finfish such as striped bass and blue catfish," the company said.
Photo courtesy of Giant Food