Top 25: Seafood Product Innovation
Published on
September 23, 2019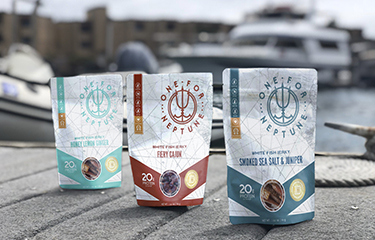 OneForNeptune | Rockfish Jerky
A recent study from Mintel says it all.
According to statistics from the study, 90 percent of U.S. adults snack daily, 70 percent indulge themselves two or more times a day, and 17 percent seek out between meal treats four or more times per day. Moreover, two-thirds of snackers are replacing meals with snacks, Mintel discovered. In summary, the snack market it hot right now – a reality that OneForNeptune, an innovative producer of sustainable fishy jerky, is banking on.
Founded in 2017, OneForNeptune has made a splash in both the seafood and snacking arenas with its fish jerky creations, which features U.S. West Coast rockfish as the primary ingredient.
"We knew that customers were looking for something with the familiar taste and texture of beef jerky. It took making a lot of bad jerky in my home kitchen to perfect the winning recipes, all of which are being well received everywhere we go," Nick Mendoza, the founder of OneForNeptune, told SeafoodSource in June.
Listed as a finalist for the 2019 Seafood Excellence Awards, hosted at Seafood Expo North America in Boston, Massachusetts last March, OneForNeptune's Rockfish Jerky is aimed at people of all ages, but has had a strong draw for younger outdoor adventurer types as well as individuals following Keto and Paleo diets. With considerably high levels of selenium and omega-3 fatty acids – nutrients that can promote brain development during pregnancy and early life – as well as other nutritional benefits, expectant mothers have also become an important target market for the product.
OneForNeptune champions sustainability and traceability in its innovation regimen, promoting the use of bycatch in its offerings. While not yet commercially viable, the company is hoping to introduce products made from lionfish, an invasive species that threatens the well-being of coral reefs and other marine ecosystems around the world.
Here's what OneForNeptune had to share with SeafoodSource about its innovation process for Rockfish Jerky, and its growing product portfolio.
What kind of trends have informed OneForNeptune's latest product innovations?
OneForNeptune was founded in early 2017, amid two wildly growing market trends. The first, is the uptick of American desire for the easy consumption of sustainable seafood. With the great success of the rebounding of the Pacific groundfish, we knew that we could provide a seafood product traceability back to ethically caught American seafood.
Secondly, the upscale jerky beef-alternative jerky markets saw rapid growth with burgeoning firms being acquired by the likes of General Mills and Hershey in lucrative deals. These two factors propelled the idea to create a fish jerky, and our product was further tailored by market desires for shelf stable products that meet other dietary demands.
Which products have you seen really resonate in 2018/2019?
Our three white fish jerky SKUs: Honey Lemon Ginger, Fiery Cajun, and Smoked Sea Salt & Juniper, have all made great strides in 2019. Our launch of these products, in fact became the #1 Kickstarter Food Project on Earth last summer. Each flavor has resonated equally with our consumers, commanding a third of our sales.
Our savory Smoked Sea Salt & Juniper jerky blends smoky sea salt with cracked pepper and Juniper berries, leaving your mouth watering for more. Our Fiery Cajun eight-spice blend invigorates the taste buds with a medium-hot Bayou burn that will keep you coming back for more. Lastly, our Honey Lemon Ginger balances zesty lemon, smooth honey, and crisp ginger – [a] fresh blend of sweet and savory perfect for every palate.
In our first six months, we produced 40,000 packets of our jerky, and we are looking forward to promising growth.
What key features serve to set OneForNeptune's new products apart in the market?
Taste: First Fish Jerky with the traditional flavor and texture of beef jerky, such that some of our consumers say, "I hate fish, but I love this product"
Traceability: Using OneForNeptune's "Find My Fish" platform, consumers can trace every packet back to the fish, fisher, and fishery that they were caught.
Approach: We developed our products around solving problems – both for sustainability and consumers. Our model is built thoughtfully around using undervalued and underutilized species and cuts, reducing seafood waste, and sharing our sustainability message broadly. For the consumer, we highlight convenience and the health benefits they seek in seafood.
Health: High content of omega-3 [fatty acids], selenium, [and] protein with low fat, carbs, and calories compared to beef jerky.
Photo courtesy of OneForNeptune