Top 25: Seafood Product Innovation
Published on
September 23, 2019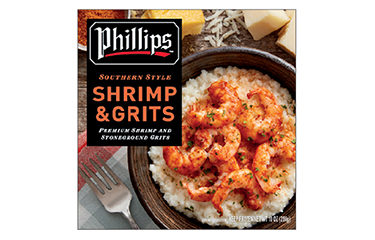 Phillips | Shrimp & Grits
Phillips Foods launched tuna products at retail for the first time this year, along with several new frozen seafood appetizers, ahead of Seafood Expo North America 2019.
The Baltimore, Maryland-based foodservice and retail supplier rolled out its tuna burger and pasteurized tuna ahead of the expo, and expanded its appetizer line with Crispy Dim Sum, Crab Rangoon, and Shrimp & Grits. The apps – sold in Food Lion, Giant Landover, and other grocery chain stores – retailed upon launch for a suggested price of between USD 7.99 (EUR 7.05) and USD 8.99 (EUR 7.93) each.
The new apps join Phillips' other popular apps, including Shrimp Toast, Crab Pretzel, and Salt & Pepper Calamari. They are targeted toward consumers who are increasingly interested in small plates and tapas-style eating, Phillips Vice President of Retail Sales and Marketing John Baxter explained to SeafoodSource in February 2019.
"We have found that, in our restaurants and others that our foodservice team work with, the growth of small plate and tapas-style offerings expand on menus around the country. It seems to fall in line with the wants of the consumer – not only millennials, but all age groups," Baxter said.
The 105-year-old supplier has made a name for itself with its blue swimming crab and crab cakes products. Phillips has greatly diversified its offerings in recent years, however, which has provided a sales boost, Baxter said.
"It has been a challenging few years with crab meat [prices and availability], but we have positive momentum," Baxter said.
Moreover, grocers are more likely to carry more of Phillips' products when the supplier can offer a wider variety of apps, crab cakes, and soups, Baxter added.
"That is helping us as we move forward, since buyers are looking at space management and return on investment," he said at the time.
According to Keely Dziuban, Phillips' director of foodservice and retail marketing, many products – like the company's Shrimp & Grits – are heavily influenced by hands-on research and teamwork.
"The Shrimp & Grits was an innovation that we saw out in the market," Dziuban told SeafoodSource. "Our regional team spent some time going the Southern region, and we could do that product and do it well, so we're pretty proud of that one. The shrimp that's in there are high quality, large shrimp."
When asked about Phillips' approach to innovation, Dziuban highlighted the importance of transparency, right down to the product photos that appear on Phillips' packaging.
"What you see on the package is offered in the bowl," she said.
"All of our photographs on the front of the packages, that is the product – we don't try to enhance it or put any spins on anything," Dziuban added. "If we feel that it doesn't look true, we'll pull the picture."
Moving forward, the company is looking to bring some of its product manufacturing back in-house, a task made easier with the opening of a new R&D and manufacturing facility near Phillips' current office earlier this month. The 15,000-square-foot facility, which features a large test kitchen on the other end of the building that houses its current corporate offices, will allow Phillips to bring a portion of its manufacturing that had previously been handled by co-packers back in-house, Baxter told SeafoodSource in September.
The new facility will complement – not replace – processing at Phillips' Asian plants. "Competitively, it wouldn't make sense to bring the labor-intensive items here [to the U.S.]," Baxter said.
Photo courtesy of Phillips