CARES Act funding plans approved for four states so far, each allocating funds differently
Published on
August 12, 2020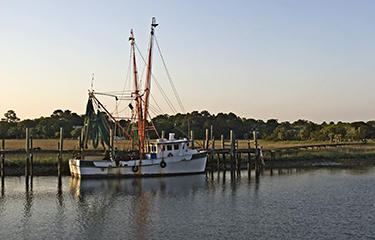 South Carolina
The fourth and final state to have gained approval so far (barring Louisiana, which may-or-may not have been approved based on information SeafoodSource has gathered from NOAA Fisheries and The Louisiana Department of Wildlife and Fisheries) is South Carolina, which received the second-smallest amount of funding for its fishery compensation.
South Carolina received USD 1.51 million (EUR 1.27 million) in funding to compensate its fisheries. Of that, according to the spending plan SeafoodSource acquired from officials with the South Carolina Department of Natural Resources, USD 1.33 million (EUR 1.12 million) will directly compensate affected parties, with the remainder held back for administrative fees and a 10 percent holdback for any appeals.
The largest portion of the funding will go to recreational for-hire businesses, which have been allocated USD 617,972 (EUR 524,108), or roughly 46.4 percent of the total funding. Commercial fishing and mariculture operations will receive USD 601,990 (EUR 510,554), while wholesale seafood dealers will receive USD 111,874 (EUR 94,881).
Funding allocations to commercial harvesters and aquaculture operations will be made based on wholesale dealer report data, with payment amounts determined by pro-rating the number of years fished and the average value of reported landings between 2015 and 2019.
"For example: if the weighted proportion of a licensed commercial fisher was 0.0103, this would be multiplied by total amount available within that sector ([USD] 601,990) and the award amount would be [USD] 6,200 [EUR 5,257]," the spend plan states.
The minimum value of relief will be USD 100 (EUR 84.80), while the maximum will be determined once all eligible candidates are determined.
"Please note, the demonstrated need may far exceed the funds available for disbursement," the plan states.
Wholesale seafood dealers will be allocated funds in a similar way to harvesters, with payment determinations made via South Carolina's wholesale dealer report data.
"We do have fairly good reporting required of both our commercial and charter fisheries, so we are able to use much of our own data to gauge impact on individuals and businesses involved with commercial fishing," Christopher McDonough of the South Carolina Department of Natural Resources' Office of Fisheries Management told SeafoodSource. "Because the relief amount the state received doesn't come close to the potential loss that may have been experienced by fishermen and dealers, we've come up with a way to make sure all who are eligible can potentially receive some relief money as equitably as possible."
Photo courtesy of Irene Pearcey/Shutterstock