Volk Enterprises takes the guesswork out of cooking seafood with disposable cooking indicators
Published on
July 20, 2020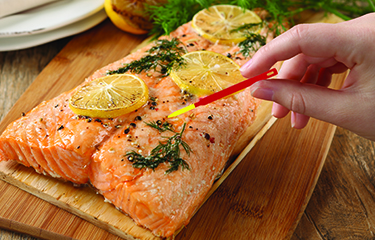 The latest temperature indicating devices from Alpharetta, Georgia-headquartered Volk Enterprises, Inc., seek to help seafood processors offer consumers test-kitchen excellence from home.
Volk's disposable Cook'd Right™ Sensor and Pop Up® Disposable Cooking Thermometer work to eliminate some of the guesswork that has long scared potential cooks away from the seafood category, the company's president Edward Gustafson II explained.
"Across the board, we're looking to make cooking simple, safe, and convenient. We want to take the guesswork out of it, and help deliver perfectly-cooked seafood every time, in restaurants and at home," Gustafson said.
Both devices, when included as value-adds for seafood products, assure quality and safety, giving processors and consumers alike peace of mind that their protein reaches the plate as it was intended to, according to Gustafson.
"What we've heard and seen is that consumers are still somewhat intimidated by cooking seafood – they don't know how to cook it, it's not turning out right, it's undercooked, it's overcooked, etcetera. From a processor standpoint, the product isn't maintaining its high standards and quality because the seafood is not being properly prepared. These solutions are designed to help any cook accurately determine the proper doneness level so that dining experiences can be fully maximized," he said.
The disposable Cook'd Right™ Sensor, in particular, "provides a quick and accurate way to know when seafood has reached its optimum level of doneness," Gustafson noted. Equipped with patented thermochromic technology, the sensor changes color to indicate the readiness of a given seafood fillet or portion. Initially, the device is entirely red, but once it's inserted into meat for 10 seconds, the inserted portion of the sensor will turn yellow, signaling that the protein has reached a predetermined internal temperature.
Many consumers are confused about what specific endpoint temperature various proteins should be cooked to, Gustafson explained.
"Unlike conventional food thermometers there are no dials or digital readouts to worry about. When the inserted portion of the sensor turns color, it's done…it's that simple," he said.
Volk confirmed that the sensor can be used multiple times before disposal – consumers simply wait for it to return to its original all-red format prior to using it again. Processors can include the device with seafood products that call for any type of preparation, from baking and frying to grilling, Gustafson added.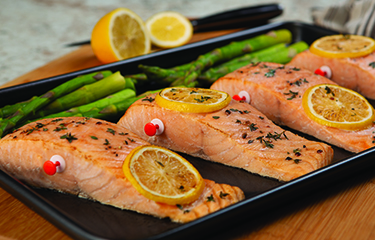 Considered one of the most accurate temperature indicators of its kind, Volk's Pop Up® Disposable Cooking Thermometer utilizes patented organic firing mediums to deliver temperature readings of fish fillets within two degrees Fahrenheit, Gustafson said. The device has gained considerably notoriety over the years, he noted, having been used by millions of home cooks every year when preparing turkey for the Thanksgiving holiday in the U.S.
"Both foodservice and novice home cooks can prepare beef, poultry, pork, and fish to perfection," Gustafson said.
Available in a variety of temperatures, the Pop Up® can be inserted into a thicker seafood item that is then place in the oven.
Once the protein has reached the desired temperature, the center stem of the Pop Up® pops up from the white barrel, alerting the cook that their meat is ready.
Gustafson said the mechanisms for both innovations offer a win-win for seafood processors and the consumers they're hoping to engage, who are increasing in numbers as home cooking gains prominence in light of the global COVID-19 pandemic.
"These products are value-added for seafood processors and they're meeting the needs of seafood consumers today," he explained. "More people are cooking at home, more people are trying different things but some anxiety over cooking properly still exists. These are value-added tools that can help both experienced and novice cooks."
A family-owned business, Volk has been developing and manufacturing temperature indicating technologies for over 50 years. It has a manufacturing facility in Turlock, California, and three subsidiary companies – Volk Protective Products, Safety Today, and Volk Europe Ltd. – that provide a variety of products and services worldwide. In addition to its temperature indicators, Volk also produces poultry trussing devices as well as flavor and product identification tools.
Gustafson said the company's main mission is reflected throughout its broad portfolio of innovations and services.
"In looking ahead to the future, we are determined to remain steadfast in our role as a customer-oriented and consumer-friendly company," he concluded. "This family-owned business has a rich history of continually working to make food preparation safer and more convenient."