Cod Market Factbook 2022
Published on
May 20, 2022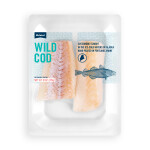 You may be familiar with our Scallop Market Factbook, which we began in 2018. This is our inaugural Cod Market Factbook. As a processor of line-caught Cod for many years, we have a unique vantage point that we want to share with you.
This report shares our view on global cod supply over the decades, including US imports, domestic landings, and challenges.
Thank you!
This whitepaper will be emailed to you shortly.