Innovation, millennials driving big changes – and gains – for frozen seafood
Published on
August 30, 2021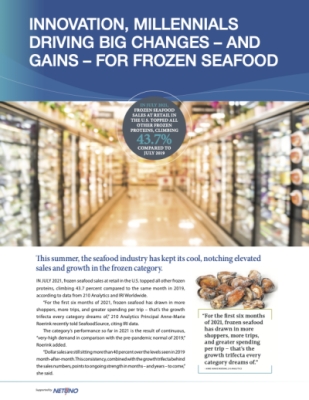 For the first six months of 2021, frozen seafood has experienced "the growth trifecta every category dreams of," according to 210 Analytics Principal Anne-Marie Roerink. It's a dream that has been years in the making for the seafood industry, and one that is likely to last in a post-pandemic world as new and traditional retail channels diversify and global foodservice advances deeper into its recovery.
In this download, SeafoodSource explores the latest consumer and innovation trends fueling seafood's frozen format success.
Learn about:
Key demographics leading the charge down the frozen aisle
The role e-commerce plays – and will continue to play – in expanding the frozen category's reach
The shifts in freezer capacity and spending patterns that accompanied a pandemic frozen retail surge
And more!
Thank you!
This whitepaper will be emailed to you shortly.