Case-ready seafood packaging trending in 2021
Published on
April 30, 2021
Seafood's surge at retail, spurred by the COVID-19 pandemic, has given packaging innovation experts like Taunton, Massachusetts-headquartered Harpak-ULMA a lot to do over the past year.
As its seafood supplier partners have stepped deeper into the proverbial grocery aisles of their portfolios, Harpak-ULMA has seen demand for vacuum skin packaging (VSP) solutions and equipment take on a whole new level of prominence, Dave Favret, the product manager for the company's TFS series, told SeafoodSource.
"We've really grown our seafood business in thermoforming equipment over 2020 and into 2021, and it's all been based around vacuum skin packaging," Favret said.
Due to the pandemic, many consumers have been thrust into the role of home chef, often for the first time. As such, they've been on the lookout for proteins that are not only convenient to prepare, but also compelling to eat, with quality that's readily apparent – all characteristics offered by VSP seafood products, particularly those within the case-ready and value-added subcategories, according to Favret.
Harpak-ULMA offers a suite of horizontal automatic packing machines in its TFS series suitable for VSP, skin-pack, and modified atmosphere packaging (MAP) technology. The highly-customizable equipment serves to give products that journey through them "a second, almost imperceptible, skin," Favret explained. This enables consumers to have a multi-sensational experience with their food without compromising quality or food safety, he said.
The machines are capable of varying portion sizes, Favret added, "a huge draw right now as ready-meals and grab-and-go options attract individual shoppers as well as heads of households."
"Most of our customers have the capability to run a full portion of product, a half-portion, and a quarter-portion – the equipment meets all the different requirements for large family and individual-sized portions," he said. "And that changeover is done pretty easily with our equipment, within 15 minutes or less."
The rise in value-addition seafood products has been another pandemic trend boosting Harpak-ULMA's VSP endeavors, according to marketing director Mary Ahlfeld. Just as VSP can capture fish fillets in place, it has the same effect on value-adds like butters, spices, and more, she said.
"With the vacuum skin pack, you can put the pad of butter on top and it holds it in place, displaying it perfectly. If it wasn't in skin pack, that butter wouldn't stay there," Ahlfeld explained.
The latest VSP push for seafood has been helped along by more than just modern consumer tastes, Favret noted, with retailers also being drawn to the packaging format for its shelf-life extension properties, labor savings, and presentation versatility.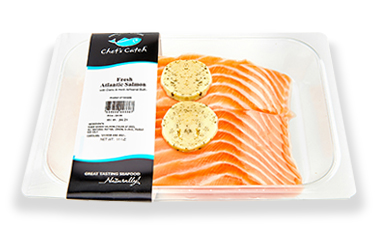 "Retailers are now buying fish from processors that's already skin-packed for them. It's a very attractive-looking package, and it saves them from the labor involved with bringing in fresh fish to display in their case for a short period of time," he said. "If you bring in a fresh piece of fish to display in the case, you probably have three or four days in terms of shelf-life, whereas a case-ready, vacuum skin packed item would offer more like up to 10 days – basically double."
Favret said seafood buyers within the grocery sector also tend to gravitate towards VSP products as a means to better economize their physical store space, without making a mess.
"You can display the packages vertically," he said. "Because of the skin-pack, it can contain all the purge from any moisture that might be within the product, so that when you display it vertically, it looks really nice without any liquids being an issue."
Additional VSP benefactors, of course, are seafood processors themselves, Favret said. When operators incorporate equipment from Harpak-ULMA into their processes, for example, they can tap into the firm's smart connected machine profile, enhancing their automation practices, the company said.
"Our skin pack machines leverage Rockwell Automation's smart connected automation platform as a standard," Favret said. "It gives us the capability to offer augmented reality for workflows or troubleshooting. We can create a digital twin of any machine, and we're actually able to do training processes using a handheld device remotely."
Moreover, because Harpak-ULMA's solutions run on convergence systems, they can be interoperable with a given processor's unique labeling equipment, Favret added. With VSP seafood products, Favret said labels are often banded and can be placed strategically on the package, allowing suppliers more avenues to stand out in the aisle.
Moving forward in 2021, Harpak-ULMA Vice President of Sales Jerry Rundle said the company would be focusing on the case-ready protein segment, as proper packaging in this arena "can help offset supply and demand uncertainties associated with perishables distribution models that are traditionally built around just-in-time inventories."
"The COVID-19 pandemic has accelerated the long-term shift towards omnichannel grocery sales, placing increased market pressures and demand on producers of case-ready fresh [proteins] – which is portioned and packaged at a central processing facility rather than inside the retail store. COVID-19 continues to reshape the landscape, challenging food producers, grocery retailers, and consumers," Rundle said. "Case-ready producers need flexible packaging lines that deliver a better bang for the buck – and there is no OEM better positioned to deliver on this than Harpak-ULMA. Customers seeking to pivot their packaging strategy in response to market changes benefit from more flexible packaging solutions. Our expertise in that arena delivers them tangible savings, in both time and money."
Rundle also highlighted skin packages that can be produced using Harpak-ULMA's patented preform tray sealer.
"Our unique design allows faster production, especially when 10k breathable seafood film is used. We can also offer our proprietary PaperSeal skin pack, which increases package graphics area while reducing plastic consumption by over 75 percent," he said.