Papua New Guinea striving to be at forefront of seafood sustainability movement
Published on
October 7, 2022
The Pacific island nation of Papua New Guinea (PNG) doesn't just want to fish sustainably – it wants to be at the forefront of sustainability globally.
Speaking with SeafoodSource during Seafood Expo Asia – which ran from 14 to 16 September, 2022, at the Suntec Singapore Convention and Exhibition Centre – representatives of Papua New Guinea's Fishing Industry Association (FIA) said the country is aiming to go above and beyond Marine Stewardship Council requirements in its tuna fishery, and add MSC certification to other fisheries soon – including mud crab and lobster.
PNG first gained MSC certification for its purse-seine tuna fishery in 2020, with that certification covering 64 vessels targeting skipjack and yellowfin in both PNG's exclusive economic zone and archipelagic waters. Of that total, 32 vessels were PNG-flagged and 32 vessels were Philippines-flagged, licensed as locally based foreign fishing vessels.
In its latest sustainability report, the 26 members of the FIA reported landing 123,266 metric tons (MT) of MSC certified yellowfin, skipjack, and bigeye tuna in 2021.
FIA Sustainability Director Marcelo Hidalgo said MSC certification is a major goal, since in many markets it is a requirement to get into the marketplace. However, even at the start of the group's push to get MSC certification, PNG has wanted to do more.
"We agreed in the beginning, with investors, to go beyond the certification," Hidalgo said.
Through that push came the country's responsible sourcing policy (RSP), adopted in 2018. Hidalgo said the four pillars of that policy continue to guide PNG's efforts to have the most-sustainable fisheries in the world. A big part of that push is the second pillar of the RSP – traceability. As part of the FIA's efforts, fisheries in PNG have established near real-time traceability on all tuna vessels.
"Every time I say that it's almost real-time traceability, everybody is skeptical to believe that," he said. "But when they verify it, even talking with big companies, they are amazed. Because it really is almost real-time – a few seconds, a few minutes, at the maximum one day."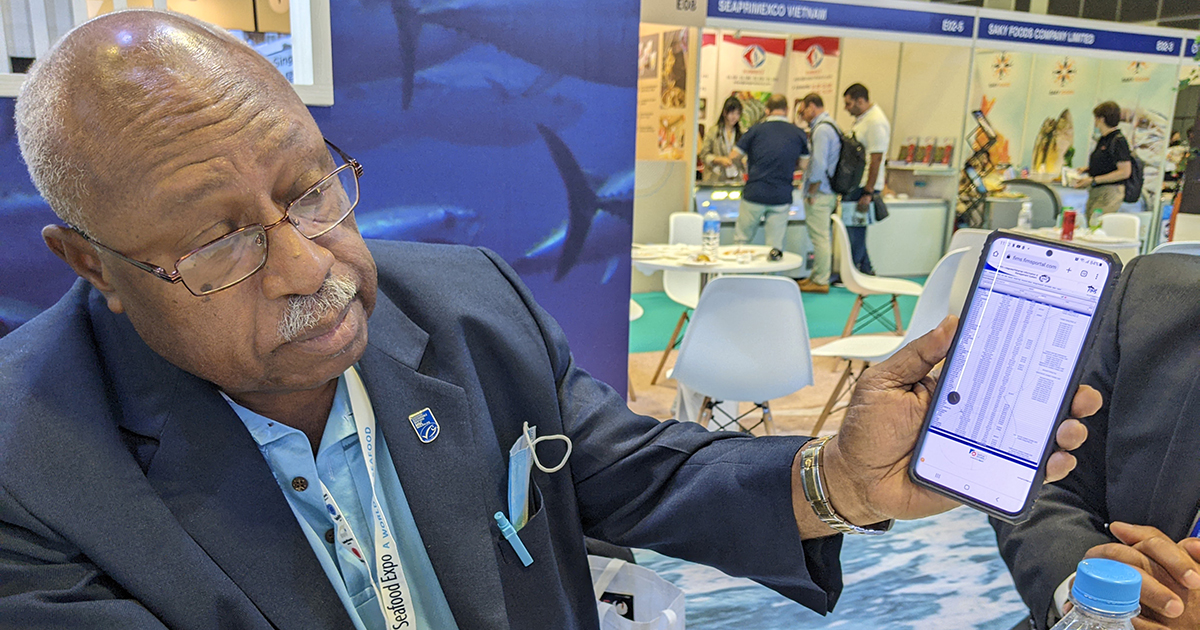 The traceability program is an integrated fisheries management system, which syncs with data from the country's National Fishery Authority (NFA).
Hidalgo said that fishers use a tablet onboard their vessels to report information, and that information is automatically sent to an NFA server. That information is compiled in an app that lists all relevant information regarding a fishing trips, including landings and transshipments of catch. Throughout the process, observers onboard help verify the information is accurate.
The system is used by multiple countries in the Parties to the Nauru Agreement (PNA) – of which PNG is a member – but only PNG is seeking to do more with the information, according to Hidalgo.
"We go beyond and are sharing openly with retailers," Hidalgo said. "That is why, every time I am talking with retailers and NGOs, they are amazed because we are open and there is nothing to hide."
FIA Chairman and President Sylvester Pokajam demonstrated the app's ability to display multiple data. He said beyond the data, PNG and the FIA are advancing sustainability-focused policies.
"Our MSC, we are managing the vessels. Unlike the PNA," Pokajam said. "They don't manage anybody, but we are managing the vessels."
Pokajam's comment speaks to an ongoing rift between the FIA and the PNA that became public in 2018. Disagreements over the proceeds generated from the PNA's joint venture eventually led PNG to pursue its own MSC certification.
Pokajam and Hidalgo said the country and industry were also working on the third pillar of the RSP – reducing marine waste. Pokajam said PNG boasts a bycatch rate of less than 1 percent in its tuna fisheries. Additionally, the PNA has worked to eliminate the use of fish-aggregating devices (FADs) in the fishery, and the majority of the country's catch does not come from FADs. The portion that does is related to FADs originating elsewhere, according to Hidalgo.
"If they see a FAD coming from other countries, that is different, they recover it, and we remove the garbage," Hidalgo said. "We are not deploying FADs. That is something many people don't understand because they say, 'Yeah, but you have some FAD catch.' Of course, but we are cleaning the ocean."
The fourth pillar of the RSP, crew welfare, is also being improved, Hidalgo said. The FIA's action plan is being reviewed, and the organization hopes to gain recognition of the fleet's labor practices soon from the FISH Standard for Crew after completing the certification's audit process earlier in 2022.
"We are not doing everything right, but we are making our corrections to increase our level to attract local people to work on our vessels," he said. "Getting a certification of the conditions, that is going to encourage local people to come and work on our fishing vessels."
Now that the implementation of the RSP for its tuna fisheries has been completed, PNG's next goal is to expand those practices into all of the country's fisheries – and its aquaculture sector, Hidalgo said.
"It's going to be scalable into lobster, mud crab, every fishery," Hidalgo said. He said the country is pursuing certifications for its tilapia farming as well.
Throughout its history, Pokajam said, PNG has been a regional leader in the seafood sustainability movement.
"Most of the measures that are being adopted by the PNA, and by the commissions, are coming from Papua New Guinea," he said. "We would like to remain leaders."
Pokajam credited the success of PNG's sustainability efforts to the willingness of the country to support fisheries with sound management.
"All of this that we are doing, we are riding on the good management of the National Fisheries Authority," he said. "We are riding on every system out there – the Fisheries Management Act, the regulations, and the policies."
Photos by Chris Chase/SeafoodSource