Five seafood dishes from San Francisco's Farallon
Published on
October 14, 2019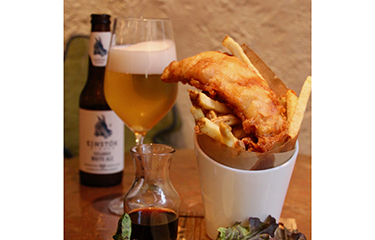 1. Sourdough battered fish and chips
"The final touches are what makes this dish essentially ours," Ryczek said of the restaurant's fish and chips.
Beginning with a locally caught cod, the fish is coated with a sourdough batter that is made from a starter kept alive since 1862. Ryczek adds Miller High Life Beer until he has achieved the desired viscosity before plunging the fish into the batter before throwing it into the deep-fryer.
"The starter adds a lightness that's comparable to a tempura batter," he added.
Some of their inspiration came from a long-term staff member hailing from Oxfordshire, who used to make fish and chips with mushy peas and malt vinegar at his parents' pub. But in Farallon style, they take it up a notch by crafting their own barrel-aged malt vinegar using a copper ale they make for their staff. The vinegar is then aged in an oak cask, which sits on the oyster bar.
"The aging in a barrel rounds out the sweet, sour and bitter notes, akin to old English traditions," Ryczek said.
Gently nestled into a brown paper-lined cone, a pile of homemade fries snuggle up next to the fish, and, of course, tartar sauce adds the tangy moist touch for dipping both chips and fish.