The Top 25 Seafood Product Innovators – 2021 Edition
Published on
September 28, 2021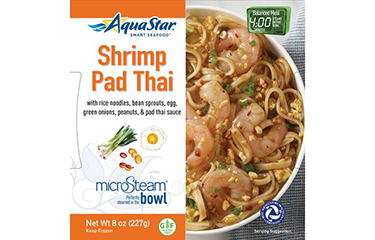 Aqua Star
Like many other seafood suppliers, Seattle, Washington, U.S.A.-based Aqua Star was confronted with the loss of its foodservice business at the end of 2020's first quarter as the COVID-19 pandemic erupted onto the scene.
Despite the pandemic hardship, however, Aqua Star's operations hummed along "smoothly and steadily," Aqua Star President and CEO Dirk Leuenberger told SeafoodSource in April 2020. As a result, the company was able to launch its innovative line of MicroSteam Seafood Bowls.
The frozen seafood meals can be cooked via microwave in around five minutes, according to Aqua Star. The company said the bowls offer a "perfect solution for a quick lunch or light dinner at a time when many Americans prefer to cook at home or find themselves staying at home."
Shrimp, pollock, or salmon certified by either the Best Aquaculture Practices (BAP) program or the Marine Stewardship Council are featured in the 8-ounce, chef-designed bowls. Product flavors include Shrimp Scampi, Shrimp Ramen, Shrimp Pad Thai, Shrimp & Grits, Salmon Teriyaki, and Sesame Ginger Wild Alaskan Pollock.
"These healthy proteins are partnered with a variety of vegetables and on-trend ingredients and spices, and served over pasta, rice, or that American specialty, grits," Aqua Star said at launch.
The line utilizes Aqua Star's innovative and proprietary MicroSteam film, which "locks in steam to cook food evenly with absolutely no 'fishy' odor," the company said, thus taking "the fear out of microwaving seafood."
"Our MicroSteam Seafood Bowls are a great solution for those looking for something a little more inspired than usual," Leuenberger added. "We've created a product line that people can stock up on and have on-hand when working from home with a house full of family. At the same time, we wanted something that gave people a bit of joy and comfort, as well as a healthy meal. Whether for lunch or a light dinner, our MicroSteam Bowls are a delicious, healthy, easy-prep solution that's ready for you whenever and wherever you find yourself."
As of April 2020, the bowls were being distributed via Amazon Fresh, Safeway, Supervalu, Giant Eagle, Giant Food, and several other retailers, for a suggested retail price of USD 5.99 (EUR 5.49) each.
Photo courtesy of Aqua Star