The Top 25 Seafood Product Innovators – 2021 Edition
Published on
September 28, 2021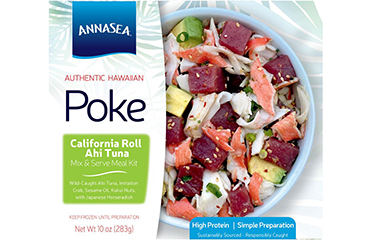 Annasea Foods Group
The COVID-19 pandemic caused many North American consumers to spend the better part of the last 18 months cooking and eating at home. It's a trend that fueled retail purchases of ready-to-eat and ready-to-serve bulk pack poke products for Kent, Washington, U.S.A.-based Western United Fish Company, which operates as Annasea Foods Group.
Nine flavor profiles currently comprise the firm's Poke Meal Kits range, including Shoyu Ahi, Wasabi Ahi, Limu Ahi, Spicy Ahi, Albacore, California Roll Ahi, Sriracha Salmon, Garlic Shrimp, and Sweet Chili Tofu. Similar to sushi, the flavors in each kit are both recognizable and unique, offering "a familiar bridge to making customized bowls at home," the company recently told SeafoodSource.
As grab-and-go counters at retail have become increasingly more popular over the course of the pandemic, Annasea has seen explosive sales of its 10-pound bulk packs of ready-to-serve poke kits.
"With the grab-and-go ease of pre-mixed fish and sauce at the seafood counter, customers can now enjoy the same eating experience of eating out at home," the company said.
In the frozen aisle, the firm said its 10-ounce poke kits – especially its Annasea Wasabi Ahi Poke Kit, Annasea Shoyu Ahi Poke Kit, Annasea Sriracha Salmon Poke Kit, and Annasea Spicy Ahi Poke Kit – continue to grow in popularity. The company attributes it to "shifting trends towards work-from-home and active lifestyles," as consumers seek healthier food options and clean protein.
"Wellness- and fitness-focused adults, college students, and families seek nutritious, quick, convenient, customizable meals at home," the company said, noting that its line of poke meal kits delivers what these modern consumers crave: convenience, value, portion-control, and uniqueness for under USD 10.00 (EUR 8.53) per kit.
In August 2020, Annasea introduced California Roll Ahi Poke and Sweet Chili Tofu Poke to its 10-ounce poke kit line, which boasts products that are all ready to thaw, mix, serve, and eat.
The California Roll Ahi Tuna Poke Kit features sustainable, traceable, wild-caught ahi tuna, while the Sweet Chili Poke Kit includes ready-to-eat Japanese-style deep fried tofu.
"California rolls are evergreen in sushi and fast casual dining; and reliably available as a foodservice item. To help drive this demand and extend the familiar flavor profile in the market, Annasea's California Roll Ahi Poke meal kit offers a trendy, in-demand product customers can make at home, anytime. Additionally, with 57 [percent] of consumers saying they are trying to eat more plant protein, Annasea Sweet Chili Tofu Poke Kit offers convenient meal kits, serving two to three [people] per 10-ounce kit," the company said of the products in August 2020.
Annasea has watched poke demand skyrocket in recent years across channels. Here's what the company had to share with SeafoodSource about poke's growth trajectory, its approach to innovation in unprecedented times, and what's in store for the value-added developer.
Photo courtesy of Annasea Foods Group