The Top 25 Seafood Product Innovators – 2021 Edition
Published on
September 28, 2021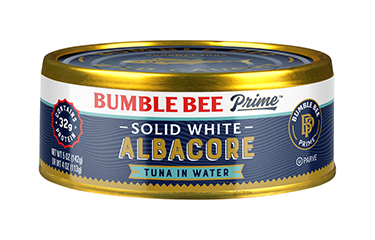 Bumble Bee
San Diego, California, U.S.A.-based tuna company Bumble Bee Seafoods began its next chapter in 2020 with a new owner, new product packaging, and new product lines.
In January 2020, the company was bought by a longstanding business partner, Taiwan-based FCF Co., for USD 928 million (EUR 826 million). At around that same time, it also kicked off a 12-to-18 month rollout of new packaging featuring a revamped logo and graphics. Bumble Bee CEO and President Jan Tharp told SeafoodSource at the start of 2020 that the firm was "very enthusiastic about our road ahead."
That road soon led to skyrocketing demand for shelf-stable seafood as the COVID-19 pandemic drove consumers to retail channels in droves. Multi-pack products proved popular, as did ready-to-eat offerings and high-protein items – all trends Bumble Bee took note of, and mobilized to capitalize on, Jeanine Lewis, the company's vice president of brand marketing, recently told SeafoodSource.
"Bumble Bee's ready-to-eat solutions, including our pouched tuna products, have continued to grow in popularity and sales" throughout 2020 and into 2021, Lewis said. As such, the firm has contributed to improving its flavored pouched product line, among other ventures.
"Unique flavors such as Lemon Pepper and Spicy Thai Chili allow consumers to make a meal in no time, no seasoning required," Lewis noted.
Lewis said the company's multi-packs of four or more cans have also been favored over the last 18 months, "as they give our consumers the option to reduce their shopping trip frequency and easily stock the pantry."
"The pandemic has made us think about innovation in new ways. It's not just about new product innovation, but it's also about how we can be more innovative in the ways that we meet the changing needs of our consumers," Lewis said. "One thing we have done to that effect is we made sure that our multi-pack products are even more available at retailers to make more frequent eating-at-home occasions easier for our consumers."
Bumble Bee's "Protein on the Run" kits – which are comprised of 2.7 ounces of wild-caught skipjack tuna marinated in olive oil with an easy-peel lid, savory artisanal crackers, a handy utensil, and a sweet caramel treat – cater to some of those needs prized by modern consumers.
"Our new 'Protein on the Run' product is designed for on-the-go, high-protein meals and snacking," Lewis said of the Bumble Bee Prime gourmet tuna range items, which come in three varieties – Zesty Lemon, Black Pepper, and Mild Jalapeño – and deliver between 16-17 grams of high-quality protein per kit.
Additionally, the company is launching a new line of "Quick Catch Tuna Bowls," Lewis said, which blend "tuna, rice, or pasta and veggies for a convenient mini-meal that can be eaten hot or cold." As it moves forward, Bumble Bee is "also taking steps to make our core product, canned tuna, more craveable than ever before."
"This includes a new Bumble Bee Prime Solid White Albacore in Olive Oil that delivers what we believe is the best tasting, highest quality albacore tuna on the market," Lewis said.
With 2022 nearing, Bumble Bee plans to keep consulting consumers on their evolving preferences, according to Lewis.
"We always aim to meet the changing needs of our consumers, and we're constantly talking to them to find out how we can meet those evolving needs," Lewis said. "We know that shopping patterns for most people have changed significantly over the past 18 months. They are making more club visits, we are seeing more value-driven consumers, and we're striving to meet the need for a healthy, delicious, and affordable product that makes mealtime easy."
Photo courtesy of Bumble Bee