The Top 25 Seafood Product Innovators – 2021 Edition
Published on
September 28, 2021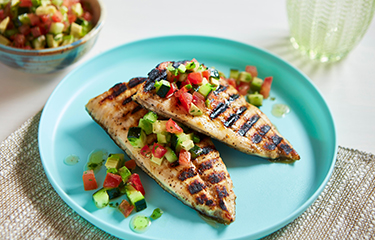 Forever Oceans
Gainesville, Virginia, U.S.A.-headquartered Forever Oceans began the launch of its deep-ocean raised Forever Oceans Kahala product in March 2021, showcasing the new seriola rivoliana offering at this year's Seafood Expo North America Reconnect.
The Kahala – which means "Cherished Land" in Hawaiian and is also the local name for amberjack or longfin yellowtail – has been lauded by the more than 30 chefs nationwide who have sampled it, including Jose Andres, Andrew Zimmern, Rick Bayless, Eric Ripert, and Jaques Pepin, Forever Oceans told SeafoodSource.
"The response from chefs nationwide to our new Forever Oceans Kahala has been extraordinary," the company said.
With the product "just now hitting the retail and foodservice markets," Forever Oceans believes Kahala will be "the most exciting development in sustainable seafood for the decade to come."
"Light, flaky, and with a buttery texture, the fish is not just applicable to sushi or poke, but to any center of the plate application. All the chefs who have had the opportunity to sample and work with Kahala in their kitchens have committed to serving it in their restaurants in multiple dishes," the firm said.
Forever Oceans Kahala is reared in deep ocean water in Panama, Brazil, and soon, Indonesia, using a proprietary aquaculture process developed by the company's founder and CEO, Jason Heckathorn.
A 24/7 remote monitoring system is employed throughout the seriola rivoliana growing process, and the resulting fish are "devoid of contaminants and high in [omega-3 fatty acids]," the supplier said.
"Our proprietary process for nurturing the fish is now scaling up enclosures off the coast of Panama, technology and research in Hawaii, along with other operations underway in Brazil and Indonesia," Forever Oceans said.
These welcome developments come after the company faced serious obstacles wrought by the COVID-19 pandemic.
"The pandemic severely impacted our operations and innovation. It was a big challenge coming up with protocols to keep our people and fish healthy in each community that we work in. We are a multi-national, multi-lingual, multi-cultural company and travel restrictions made communications much more challenging," Forever Oceans said. "Fortunately, we have an amazingly dedicated global team that has refused to let these challenges stop our progress. We brought entire operations to scale in mid-2021 after building through the worst part of the pandemic. The production of jobs, skills, infrastructure, and deliciously sustainable seafood has been a material source of encouragement for the communities we work in."
Forever Oceans Kahala is reaching the market at a prime time, the company said, considering how the past 18 months have emphasized and "accelerated a human health trend for eating better."
"Consumers who were sheltered in their homes began to explore new ways to prepare seafood for their families. The superior flavor and functional benefits of omega-3 [fatty acids] increased consumption and interest in seafood to record levels. We are convinced that our Kahala is entering the marketplace at a perfect time as people who want to live healthy while eating delicious will reach for our fish at supermarkets and order it at their favorite restaurant," Forever Oceans said.
Monica San Miguel, the company's chief marketing officer, told SeafoodSource in March of this year that not only is Kahala sashimi-grade, "but it's higher in omegas than any salmon or tuna that you have seen."
"We're really focusing around the culinary versatility of it, whether you're a chef or a home cook," Miguel added.
Learn more here about Forever Oceans integrated approach for environmentally-friendly ocean mariculture and what's coming up for the business in 2022.
Photo courtesy of Forever Oceans