The Top 25 Seafood Product Innovators – 2021 Edition
Published on
September 28, 2021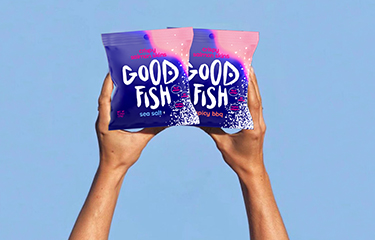 Goodfish
Los Angeles, California, U.S.A.-based Goodfish is ready for "the most delicious season ever" in its second year selling sustainable, crispy salmon skin snacks.
The company, which was a decade in the making before debuting in the spring of 2020, spent its first year post-launch honing its recipes, crafting new flavors, and engaging virtually with eager eaters of its products, which are made with wild-caught sockeye salmon skins sourced from Bristol Bay, Alaska.
By nature of its launch-time, Goodfish "was born into the highly consumer-feedback-tuned Amazon and [direct-to-consumer] ecosystem," the company recently told SeafoodSource.
"Goodfish has used these platforms to iterate and develop our products," it said. "After a year of collaborative development with its pioneering customers, Goodfish launched version 2.0 this past April: Making the chips more crispy, less fishy, more tasty, and less wasty."
Frank consumer consultation has been crucial in informing the business's next steps as it enters its sophomore year, the company said.
"Our latest product iteration is the direct outcome of eight months of transparent, candid, and constructive criticism to help us establish an entire new category in the snack world," Goodfish said. "We chose to listen to and work with our audience and bet on its desire to help develop better products. We owe the thousands of customers that participated a big thanks. We make our product with them, for them – transparently."
The snack supplier, which was formed to "positively contribute to solving the seafood conundrum," said its newer product innovations "include a revamped recipe to make sustainable snacks more palatable." Celebrated gourmet sushi chef Phil Tanaka has also come aboard as a culinary advisor for Goodfish, consulting on the development of flavors for the firm's upcycle, crunchy salmon skins and helping it "create an accessible product."
Tanaka's guidance aided in the creation of Goodfish's new Miso Teriyaki offering, a "tangy, umami-packed flavor" that has become an instant favorite among customers, the company said.
Miso Teriyaki joins existing varieties of the portion-sized bags of salmon snacks, including Salt & Vinegar, Sriracha Lemongrass, Sea Salt, Chili Lime, Spicy BBQ, and Tart Cranberry. Each 0.5-ounce bag retails for USD 2.99 (EUR 2.65).
Tanaka isn't the only familiar face to align with Goodfish on its "mission to deliver an entirely new vision around sustainable wild seafood."
"One of the world's most widely known faces of survival and outdoor adventure, Bear Grylls, has joined Goodfish as a co-founding member. With the help of the Emmy-awarded nominee, the Goodfish team is on a mission to help amplify education and awareness of preserving the ocean's vital fisheries and ecosystems," the company said.
Partners like Grylls embody "the ethos of wilderness conservation and stewardship that guides us," Goodfish said, adding that "Bear is a globally-respected brand who lives and breathes what we stand for, and we are committed to delivering on our promise."
Douglas Riboud and Justin Guilbert, the founders of Harmless Harvest, a supplier of coconut water and dairy alternatives, join Grylls in captaining Goodfish. They told SeafoodSource in June 2020 that Goodfish is the first 100 percent traceable wild Alaska sockeye salmon snack, with product sourced from the "world's most sustainable, well-regulated fisheries in Bristol Bay, Alaska."
"Goodfish has the ambition to offer a broad product spectrum that offers a combination of innovation, nutrition, sustainability, and scale to help turn the tide on the near-sighted approach our society has taken on the biomass of silent life that resides underwater," Riboud said in June 2020. "This resource is limited by definition and the only way to grow its value is by increasing the value of each fish. If you look at the world this way, every incremental value adds on how a wild resource develops its resiliency."
Lauren Jupiter, the managing partner of AF Ventures, Goodfish's lead investor, added that by "upcycling a nutrient-dense ingredient that has historically been overlooked," the company's "salmon skin is paving the way for future categories to rethink innovation."
Photo courtesy of Goodfish