Dutch firm has eye on troubled Bianfishco
Published on
March 14, 2012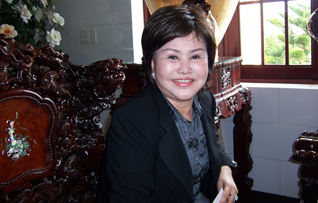 Binh An Seafood Joint Stock Co. (Bianfishco) — the Vietnamese pangasius processor and exporter that owes 45 local fish farmers VND 261 billion (USD 12.4 million) — plans to sell its processing facility to a Dutch financial firm, Viet Nam News (VNS) reported on Wednesday.
The proceeds from the sale will be used to pay off debts to its fish farmers. Bianfishco CEO Tran Van Tri also confirmed to VNS that the company has paid its 1,200 workers their February salaries, worth VND 3 billion (USD 143,000), though many employees remain out of work because of a shortage of raw material.
This is the latest development in a bizarre situation that began to play out late last month when Tri replaced his wife, Pham Thi Dieu Hien (pictured), as CEO. She is no longer in Vietnam. According to numerous sources, she is now in the United States.