The Top 25 Seafood Product Innovators – 2021 Edition
Published on
September 28, 2021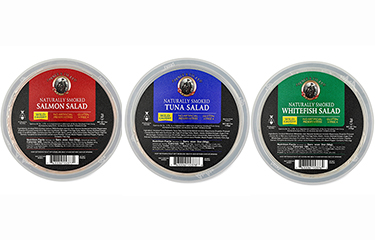 Acme Smoked Fish Corporation
Brooklyn, New York, U.S.A.-based Acme Smoked Fish has had a busy 18 months, releasing a host of new products over the course of 2020 and 2021.
The company's new roster of goods includes a line of smoked seafood salads sold under its Spence & Co. product line in three varieties: Naturally Smoked Whitefish Salad, Naturally Smoked Salmon Salad, and Naturally Smoked Tuna Salad. Featuring wild-caught fish smoked using native American hardwoods, and packaged using high-pressure packaging (HPP), the new items – announced in March 2021 – "offer a convenient way to snack, prepare a quick lunch, or feed a crowd," Acme said.
"Serving suggestions include enjoying on a salad or bed of lettuce, creating a smoked seafood salad sandwich or wrap, or serving as an appetizer by spreading on crackers, then topping with fresh herbs," the company said.
Naturally Smoked Whitefish Salad consists of hot-smoked wild-caught whitefish from the U.S. Great Lakes mixed with dill, chives, black pepper, and mayonnaise, while Naturally Smoked Salmon Salad features hot-smoked wild-caught Alaska salmon combined with mayonnaise, lemon juice, chives, cayenne pepper, paprika, and other spices. Naturally Smoked Tuna Salad is comprised of hot-smoked yellowfin tuna mixed with mayonnaise, lemon juice, onion, black pepper, and other spices.
Acme said the seafood salads, which are available in seven-ounce packages at Whole Foods Markets for a suggested retail price of USD 7.99 (EUR 6.73) each, are gluten-free and contain no artificial ingredients, and the whitefish salad and salmon salad are certified kosher.
A year prior to the release of its seafood salads line, Acme rolled out its Smoked Nova Salmon Convenience Pack, an 8-ounce collection that includes four single-serve, individually-sealed packs of Acme's classic Smoked Nova Salmon. The product offers "freshness and convenience for a snack, lunch or on-the-go meal," Acme said in March 2020.
"We are happy to introduce one of our customer favorites in an all-new format designed for convenience," Acme Co-CEO Adam Caslow said of the offering, which was shortlisted as a finalist in the 2020 Seafood Excellence Awards before COVID-19 lockdowns began. "Our Smoked Nova Salmon Packs are perfect for people looking for the convenience of a single-serve."
In January of 2020, the company appealed to snacking trends as well with its Smoked Atlantic Salmon Candy. Billed by Acme as a "healthy snack," Smoked Atlantic Salmon Candy offers "a twist on the traditional Pacific Northwest 'salmon candy,'" the company said in a press release. The new snack-ready product, which comes in three-ounce packages, is rendered via Acme's special curing and smoking process, thus achieving a flavor balance of both sweet and savory. It can be served as a topping on salads and grain bowls, and used as an alternative to bacon and other proteins for a variety of dishes, according to Caslow.
"We are so excited to share our very own take on Salmon Candy," Caslow said at the start of 2020. "We found that our unique process creates a really extraordinary flavor, and we hope our customers will love it as much as our team does."
Photo courtesy of Acme Smoked Fish Corp.