Top 25: Seafood Product Innovation
Published on
September 23, 2019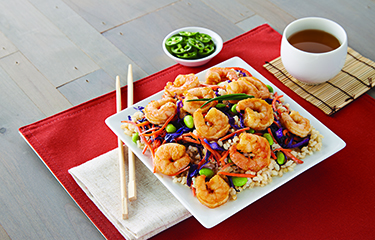 Pacific Seafood | Seasoned Shrimp [Scampi; Honey Jalapeno]
The modern consumer is always on the go, a fact that Clackamas, Oregon-based supplier Pacific Seafood honed-in on when creating its Seasoned Shrimp product, available in Scampi and Honey Jalapeno flavors.
According to Pacific's description of Seasoned Shrimp on its website, the product can be prepared either by sautéing, broiling, or grilling in under three minutes. It can be added to salads, stir fries, rice bowls, or pasta. Both flavor varieties are available at the grocery store year-round.
Seasoned Shrimp are sustainably harvested, Pacific said, and seek to satisfy the demand for less processing with a dry rubbed finish rather than a heavy sauce. The product adheres to the company's sustainability commitment – Pacific, which was founded in 1941, offers 34 Marine Stewardship Council-certified species as well as 4-star Best Aquaculture Practices (BAP)-certified steelhead trout, 4-star BAP-certified oysters, and more.
Here's what Lorin Gelfand, director of marketing and innovation for Pacific Seafood, had to share with SeafoodSource about the company's innovation process for Seasoned Shrimp, and the other products on offer in Pacific's portfolio.
What kind of trends have informed Pacific Seafood's latest product innovations?
At Pacific Seafood, utilizing innovation to overcome the primary barriers to seafood purchase and consumption in the U.S. is what drives our product development. We know that cost and lack of education are the primary reasons consumers choose a more familiar center-of-the-plate protein such as beef, pork, or poultry.
Given this, our innovations are focused on:
Encouraging consumption of a wider variety of affordable species such as rockfish or whiting that meet the right price, flavor, and level of convenience.
Developing more ready-to-eat fresh meals, but minimally processed.
Expanding occasions for fish consumption. Right now, most consumers consider seafood for a special meal or holiday, so we aim to find occasions to integrate into their everyday options.
Which products have you seen really resonate in 2018/2019?
Portion-packaged meals that are heat and serve ready, but minimally processed, are the types of products we have seen resonating most over the past two years. This includes the development of products for meal kits, and self-service options such as ceviches and crab cakes. Outside of the products themselves, convenient packaging options such as oven-ready trays, easy-peel film, and heat-and-serve bags, are resonating with consumer needs.
One example is our new Seasoned Shrimp, available in Scampi and Honey Jalapeno flavors; a 2019 SENA New Product Showcase finalist. Our Seasoned Shrimp is a convenient, healthy meal solution that goes from freezer to table in minutes. Meeting the demand for less processed items, these shrimp are dry rubbed with the perfect amount of herbs and spices instead of heavily sauced, so the quality and flavor of shrimp shines and maintains its texture.
What key features serve to set Pacific Seafood's new products apart in the market?
It is inherent in our innovation process that the products align with Pacific Seafood's commitment to sustainability. Developed using sustainability certified seafood species, our consumers can trust that our seafood is accurately labeled due to our unique supply chain capabilities.
These capabilities allow us to leverage our expertise in every aspect of the business, including harvesting/fishing, processing, distribution, and aquaculture, in order to provide our customers with the freshest, most sustainable, highest-quality product on the market. We are responsible for the process from the beginning to the end, and we do it in the most efficient manner possible. Transparency and traceability are key to our supply chain, which is why we developed our own proprietary traceability technology in 2002. This technology allows us to track any product we process from the water it was harvested in all the way through to the store where it is sold.
Photo courtesy of Pacific Seafood