Top 25: Seafood Product Innovation
Published on
September 23, 2019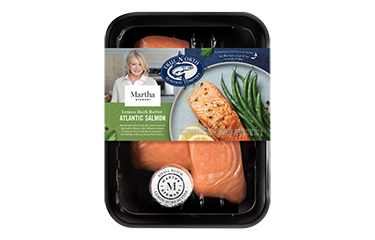 True North Seafood | Martha Stewart for True North Seafood; Atlantic Salmon Croquettes
Cooke Inc.'s True North Seafood is no stranger to seafood product innovation on the big stage.
An independent, family-owned seafood company, Blacks Harbour, New Brunswick, Canada-based Cooke Inc. – True North is one of Cooke's subsidiaries – is constantly on the lookout for product partners who share the enterprise's core values. The company found one such partner in Martha Stewart, who teamed up with True North in 2018 and 2019 to create the Martha Stewart for True North Seafood line, which debuted in March at the 2019 Seafood Expo North America event and started hitting retail shelves in May. The value-added line features Atlantic salmon farmed in the Gulf of Maine, wild sockeye salmon and pollock sourced from Alaska, and Patagonian bay scallops.
Atlantic Salmon with Lemon Herb Butter; Sockeye Salmon with Miso Butter; Wild Alaska Pollock with Southwest Spice Blend; and a Seafood Medley (Wild Alaska Pollock, Atlantic Salmon, and Bay Scallops) with Herb Spice Blend were among the range's initial offerings. Easy-to-follow recipes created by Martha's Test Kitchen are part of the packaging for each entrant in the line, which was tested with groups of seafood consumers who saw it as "a great way to broaden what they currently prepare for their families at home," according to Andrew Young, vice president of global sales and marketing for True North.
"We see this product line being a great way to bring new people into the seafood category. With Martha's cooking instructions and pairings, it makes preparing seafood at home even simpler," Young told SeafoodSource in February.
While launching the product line at Seafood Expo North America a month later, Martha Stewart's culinary director, Thomas Joseph, and Cooke Vice President of Public Relations Joel Richardson, said the development of the range was "a labor of love."
True North ticked off the boxes for each of the four major attributes that the Martha Stewart brand considers when establishing new products, Joseph confirmed to SeafoodSource.
"We are very specific," he said. "Products need to be simple, natural, delicious – of course – and also convenient. So, whenever we are creating food product, whether it's with our friends here at True North, or it's for some of the food products we have on QVC, or our meal-kit delivery service, we are always looking for our food products to achieve all of those fours things. Convenience being a big one for us."
True North's story also had a strong appeal for Stewart and her team, as did the firm's willingness to share its processes. The company's dedication to sustainability, a core principle for Stewart and her food businesses, also proved potent, noted Joseph.
"As a brand and as a magazine, we always are looking to feature purveyors or brands that have really great-quality product and they have a great story that goes along with it," he said. "We want to know about the farms, and what they're doing, and what's so special about them, and I think that's what True North has."
The launch of the Martha Stewart for True North Seafood line was just one innovation venture being promoted by True North in 2019. The company also saw its Atlantic Salmon Cakes and Atlantic Salmon Croquettes featured in SENA's New Product Showcase.
The bite-sized Atlantic Salmon Croquettes – ideal as an appetizer at a party or as an addition to a meal – "give the impression of being hand-made to perfection without all the guess work," True North said. Meanwhile, the Atlantic Salmon Cakes include premium flaked Atlantic salmon and are ready-to-cook.
Photo courtesy of True North Seafood