Seafood's mid-flight potential shines on Qantas Airways
Published on
August 23, 2019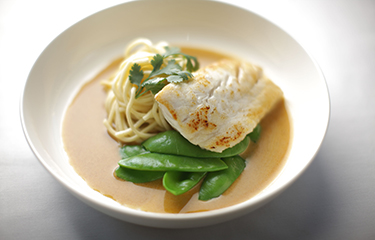 1. Snapper Poached in Garam Masala with Fine Semolina Noodles and Snow Peas
This iconic dish first appeared on Rockpool 1989 menus in its original location at The Rocks, Sydney. Neil Perry loved it so much he added it to Qantas first-class menu in 1997. Equally loved in-flight as it is on the ground, this dish continues to appear on Qantas menus time and time again.
Ingredients
For the tomato and chili base
1 small peeled brown onion, finely diced
2 fresh garlic cloves, minced
1cm piece peeled fresh turmeric, minced (wear gloves as turmeric stains everything yellow!)
1 small wild green chillies (scuds), finely chopped
1cm piece peeled fresh ginger, minced
1 teaspoon sea salt
¾ cup vegetable oil
3 large vine-ripened tomatoes, core removed, cut into 5mm dice
1 cup coconut milk
1 teaspoon light palm sugar, finely crushed
1½ tablespoons fish sauce
2 tablespoons tomato and chilli base (see recipe above)
½ teaspoon Herbies garam masala mix (see note above)
4 x 150g fresh snapper fillets, skinless, boneless
400g fresh fine egg noodles *
250g snow peas, top and tailed
Method
First make the tomato and chilli base. This is a relish and will make more than you need for this recipe but it keeps for a while so save the rest for your next dinner party.
Heat vegetable oil on a low temperature in a heavy-based pot. Add onions, garlic, turmeric, chillies, ginger and salt. Cook slowly on a low heat until caramelised (this can take up to 40 minutes). When onion mixture has caramelised, add tomatoes and cook for 10 minutes. Remove and set aside until ready to use.
To make the garam masala sauce, in a deep saucepan add coconut milk, palm sugar, fish sauce, tomato and chilli base and garam masala. Bring to the boil then reduce heat and simmer for 10 minutes.
In a non-stick oiled pan over a high heat, place in snapper fillets with a little seasoning. Seal on both sides and quickly remove from heat. Place fish fillets into deep saucepan with spiced coconut sauce to gently poach. Depending on size of pan, you may need to gently turn fish fillets to ensure fish is evenly poached. Cooking time will depend on the thickness of the fillets. If you prefer, you can cook the fish separately and then serve together on the plate. The fish is ready when a small paring knife slides through without resistance.
Cook fine egg noodles until al dente. Toss in a little oil to keep from sticking. Blanch snow peas until just cooked.
To serve, place an equal amount of noodles in four deep and wide pasta style bowls. Place snow peas on the side then a snapper fillet on top. Pour over sauce and garnish with a sprig of coriander. Serve immediately.
This dish may also be served with steamed jasmine or basmati rice.