Famous chefs pick their favorite seafood dishes for Thanksgiving
Published on
November 22, 2017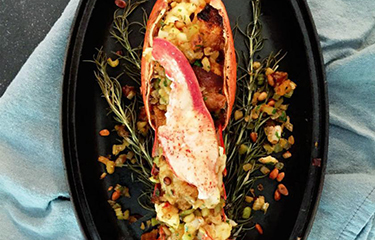 1.) Stuffed lobster
Barton Seaver, author of For Cod and Country and the newly-released American Seafood: Heritage, Culture and Cookery from Sea to Shining Sea, relies on lobster to serve as the centerpiece of his Thanksgiving feast.
"I live in Maine, and the turkey of the sea here is lobster," he said.
To cook the lobster, Seaver first quickly blanches it whole in salted water, and then splits it down the middle, and removes the innards. For the stuffing, he mixes white bread, onions, celery, pine nuts and sage, and sautés them with butter. Then, he tops the lobster with the stuffing mix, and places it under the broiler.
"These flavors are not always associated with lobster, but they make a really compelling pairing," Seaver said. "It makes a great plated presentation, too."