Buena Vista Seafood, Aminor, report greater interest in their farmed wolffish
Published on
May 16, 2023
Buena Vista Seafood and Aminor are continuing to make inroads with spotted wolffish, a species being farmed in small amounts by Aminor in Norway.
The two companies have touted the species as one completely suitable for being raised via aquaculture in terms of sustainability, animal welfare, and high feed conversion ratios. Aminor started farming the species in 2013, and is currently the only company in the world with an active breeding and aquaculture program.
Now, Aminor Sales and Marketing Director Jan Brekke Jenssen told SeafoodSource, the company is making inroads into the U.S. as the company continues to develop a market for the species.
"I'm happy with the progress and how the market is reacting to the product," Jenssen said. "Today we are shipping to three destinations in the U.S. We are shipping into New York/Boston, we are sending into Miami for distribution to the southeast and the Midwest, and we are shipping into San Francisco which is also dealing with Vegas, and we are trying to get into Los Angeles as well. So it's becoming widely spread in the U.S. – it's not huge quantities, but it's still a new species."
Outside of the U.S., the species is also being picked up in Hong Kong and Macau, where chefs are enticed by the attributes that make the species different from other whitefish.
During Seafood Expo North America – which ran from 12 to 14 March in Boston, Massachusetts, U.S.A. – the companies had two restaurants in Boston featuring the fish as the company continues to market it to high-end chefs looking for a new unique and sustainable species. It was the first time the companies had tried a launch coinciding with a seafood expo, Jenssen said.
Part of the appeal of the species, he said, is its fat ratio. Because the spotted wolffish is a relatively social and sedentary species when raised in captivity, the fish are "friendly and lazy" and mostly sit in place and eat.
"The interesting thing is that we have a fat ratio of eight to 11 percent intramuscular, which is three times the wild ones, which have two to four. That means the fish is acting quite different," Jenssen said.
The texture of the fish that results, and the species' tough skin, also means it can be and should be cooked differently from a normal whitefish. Jenssen said it has to be cooked longer and should be cooked more thoroughly to be tender, and is very forgiving to being cooked for longer periods.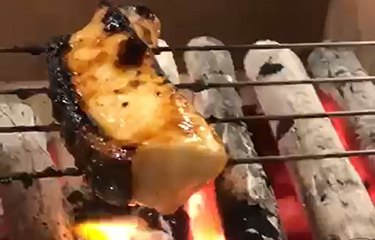 When demonstrating the species to chefs, he said, he often has them cook one piece like they would expect to cook whitefish, while telling them to leave another piece in the oven for "another 10 minutes."
"They taste the first piece and they say 'it's okay, it's good.' Then they take out the piece that has been cooked longer and they say 'wow,'" Jenssen said. "So to serve a big convention of like 400 people, it's really easy to use this fish because you can't destroy it."
Jenssen said some restaurants have immediately jumped on the species for its ability to be grilled …
Photos courtesy of Jan Brekke Jenssen/Aminor Seafood