5 must-have seafood dishes of Denver, Colorado
Published on
December 6, 2019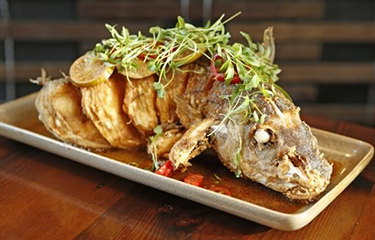 1. Brian Meiler's Crispy Whole Haddock at Stoic and Genuine
Greeting travelers arriving at Denver's Union Station is an enclave of multiple dining options, with indoor and outdoor seating. Two of these – Mercantile, and Stoic and Genuine – offer seafood options in both small and large plates. Both are open minded and creative, and source the best sustainable seafood they can find.
Stoic and Genuine is a partnership between Jennifer Jasinski and Beth Gruitch. Described as "a modern take on seafood," it is sometimes contemporary, sometimes classic with oysters flown in daily from both coasts.
Chef de Cuisine, Brian Meiler, crafts a daily crudo to offer alongside the daily oyster menu. From their Thai Green Curry Mussels to a Po' Boy to a signature fish 'n chips, the main menus have a seafood taste to suit all tastes.
"We even launched a family style seafood boil dinner a few months ago to promote the importance of shared experience when it comes to dining experiences," Meiler added.
One of their most popular dishes on the menu is their Tuna Melt.
"Our take on the classic tuna melt is a bit more fresh and a lot tastier," Meiler said. "It starts with fresh tuna, seared and top with a slice of yellow American cheese. The vessel for the melt is a toasted English muffin then we add our house-made slaw, the tuna and then slice. The simple salad on the side consists of Rebel Farms arugula, EVOO, salt, and pickled red onions."
However, the real scene stealer is their Crispy Whole Haddock.
"Our whole fish is a 1.5 pound haddock from Georges Bank (off the northeast coast of North America) fried whole until crispy," Meiler said. "The sauce is our homemade ponzu, lime, Fresno Chile and butter. The fish is finished with local micro cilantro from "Micro Joe" with living local herbs."
Photo courtesy of Stoic and Genuine