5 Seattle seafood dishes worth snagging
Published on
August 28, 2020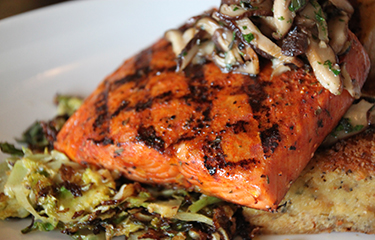 Tom Douglas, ETTA's – Etta's "Rub with Love" salmon
Just on the edge of Pike Place Market, Etta's offers diners a birds-eye view of Seattle's coast. With a menu focused on seasonal, "market driven" seafood, it has something to please everyone – whether fish lover or omnivore.
One of chef Tom Douglas's signature dishes is the "Rub with Love Salmon." The salmon sits over a succulent cornbread pudding, with warm braised brussels sprouts and shiitake relish. The rub adds just a hint of heat and spice, combining with the aromatic mushroom relish, to form a perfect compliment to the flavors of the salmon.
Douglas is one of Seattle's most well-known chefs, with several restaurants, a radio show, and a bakery. He has long proclaimed his passion for everything Pacific Northwest, and each of his restaurants bring a different perspective on local ingredients. At Etta's, the execution is in the hands of chef Benny Arocho Jr. Arocho's background brings global influences to the table, while drawing inspiration from the local environs, the cultural diversity of the regions, and Pike Place Market.
Photo by Sally James/SeafoodSource