5 top seafood dishes from Washington-based chef Kevin Davis
Published on
July 31, 2020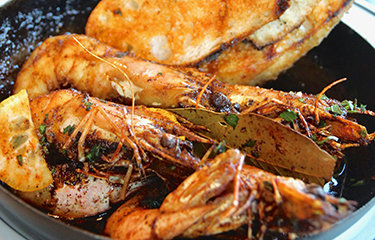 Butter poached skull island prawns with garlic, rosemary, bay leaf, and cracked black pepper
This dish been a mainstay at many of Chef Davis' restaurants, with guests begging for it back if he ever removes it from the menu. The dish makes an impressive sight to watch being paraded across the dining room floor in a hot, cast-iron pan, and the shrimp featured in the dish are primed to scoop up the flavorful broth. A bruschetta on the side ensures diners don't miss anything left in the pan.
Davis butter-poaches the prawns, enhancing the flavor with bay leaf, smoked paprika, garlic, and rosemary. The result is a rich and aromatic rust colored "soup" for the prawns to nestle in.
As with his salmon, Davis keeps an eye out for the best quality shrimp and prawns – fresh or frozen – and seeks out what has been processed without added chemicals. Gulf shrimp are one of his favorites, but he's always on the lookout for the head on product.
"If I can get the shrimp with the head on, such as the Skull Island Prawns we were serving recently, it's a real bonus," Davis said. "It makes for a great presentation and the heads bring a delicious added depth to the butter."
Photo by Sally James/SeafoodSource