5 ways to pair Champagne and sparkling wine with seafood
Published on
June 28, 2019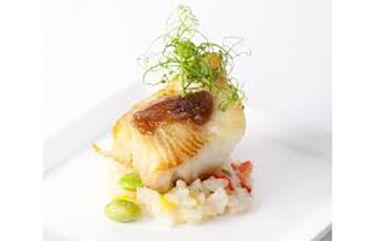 1. Turbot with Jerusalem artichoke with Veuve Cliquot by Joël Rubuchon
In 2013, the House of Veuve Clicquot enlisted star chef Joël Robuchon to create a set of dishes that combine well with their Champagne. The renowned chef went beyond just providing recipes for each of the wines by setting wider guidelines for those wishing to experiment themselves. He offers two main principles:
Looking alike, working together: Unite the flavor sensations of a wine with the flavors in a dish, for example, sweet/sweet, acidic/acidic.
Contrasting elements balance each other out: Sometimes two flavors contrast to balance out the palate, and render it even more enjoyable (acidic/sweet, acidic/fatty).
In all, the message seems to encourage experimentation to find your own perfect balance of flavor. The following dish is a recipe recommended to pair with Veuve Cliquot's Grand Dame Rosé 2004.
Turbot with Jerusalem artichokes (Serves 8)
Ingredients
2 kg turbot fillets
1 bunch of scallions
1 kg Jerusalem artichokes
100 g butter
2 brick filo pastry sheets
Nut oil
2 zucchinis
Olive oil
3 carrots
1 egg yolk
1/2 liter chicken stock
Method
Clean the turbot fillets and remove the skin, "portioning" them into appropriate serving sizes, refrigerate.
Peel and julienne the Jerusalem artichokes and stew them in butter, guarding their crispness, then add the chives and shallots.
Fashion "slippers" with the filo pastry, glazing it with the egg yolk, add the julienne.
Peel the carrots, and fashion them into little balls with a "melon baller;" do the same for the zucchini. Boil them and cool.
Reduce the chicken stock, whisk in the butter, add a bit of cream, keep warm. In a skillet, brown the Jerusalem artichoke slippers.
In a skillet, brown the Jerusalem artichoke slippers.
Cook the turbot fillets in olive oil. Season and garnish to serve.