Americans consumed a record amount of seafood in 2021
Published on
June 7, 2023
National Fisheries Institute's (NFI) recently released top 10 list of seafood consumption in 2021 indicates Americans consumed a record 20.5 pounds of seafood per capita – a 1.5 pound increase over 2020.
The increase followed a slight decrease in consumption in 2020, when Americans consumed 19 pounds of seafood – down slightly from the 19.3-pound average tallied in 2019. Both 2020 and 2021 were heavily influenced by the residual impact of the Covid-19 pandemic.
The latest numbers, NFI said, showed how Americans "expanded their taste for seafood with the help of fresh and frozen."
"The 2021 Top 10 List bears out some longheld consumption predictions," NFI Programs Director Richard Barry said.
In prior years, the top 10 consumed species made up nearly 90 percent of the seafood Americans consumed, but in 2021, that total was just 76 percent, "evidence Americans are slowly but surely trying new things."
Shrimp held the top spot of the most-consumed species, with each American eating 5.9 pounds of shrimp per person on average – a 0.90 pound increase over 2020. Salmon once again came in second, with 3.38 pounds consumed per capita, an increase of 0.55 pounds.
Canned tuna held on to its third-place spot despite a drop in consumption. American consumers ate 1.90 pounds of canned tuna per capita, a drop of 0.70 pounds.
Tilapia held steady in fourth place with 1.04 pounds consumed per capita, a minor decrease of 0.02 pounds from 2020. Fifth place once again went to Alaska pollock, despite a small decrease in consumption – Americans consumed 0.78 pounds of Alaska pollock per capita, a decrease of 0.10 pounds over 2020.
Pangasius consumption per capita rose to 0.71 pounds consumed per capita, up 0.32 pounds from 2020, moving it from ninth place to sixth place.
Rounding out the top 10 were cod, with 0.60 pounds consumed per capita, up 0.03 pounds; crab with 0.59 pounds consumed per capita, up 0.07 pounds; catfish with 0.51 pounds consumed per capita, down 0.01 pounds; and clams once again made it back onto the list after being absent in 2020 with 0.26 pounds consumed per capita, up 0.11 pounds.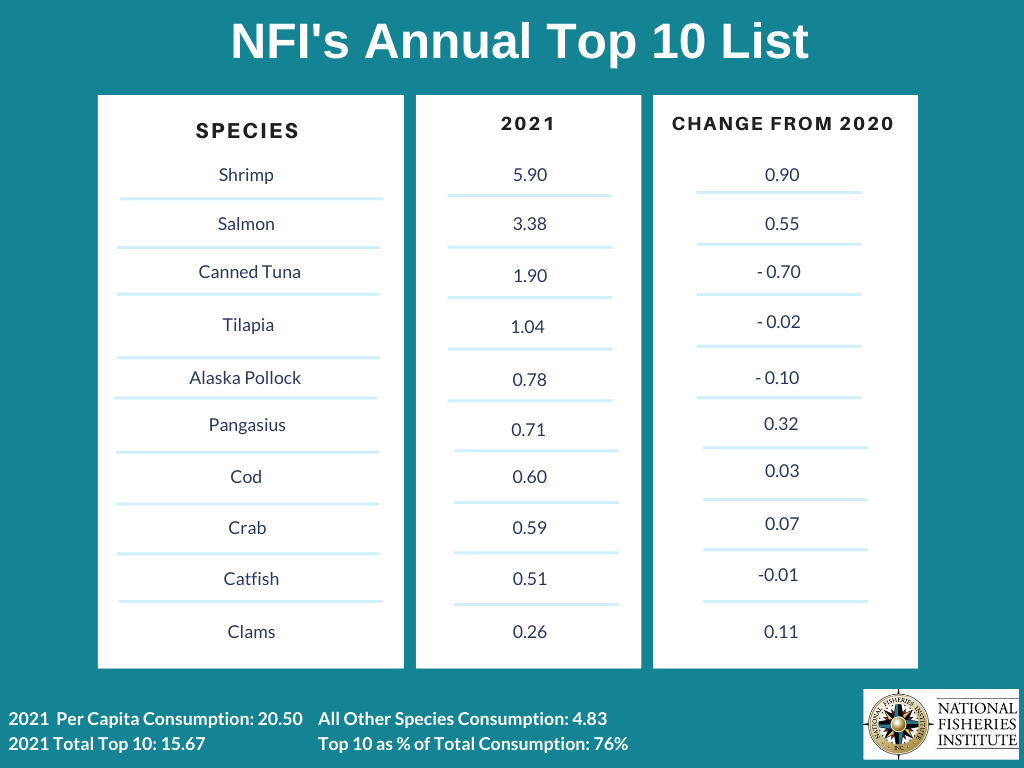 "For years, industry experts have reported a big overall increase in pandemic-era seafood consumption," Barry said. "There's no doubt we'll continue to see pandemic-related market forces influence these numbers in different ways over the next few years. But this snapshot in time is evidence of a big consumption win."
Photo courtesy of Laura Stubbs/Shutterstock