Shrimp dealers weigh benefits of new solution for melanosis
Published on
May 25, 2017
Those who deal in shrimp on a regular basis are probably familiar with melanosis. The unsightly black spots that can appear on the bodies of harvested, raw shrimp is not spoilage, but rather is caused by a naturally occurring enzyme. While shrimp with melanosis are harmless to eat, they are a definite turn-off for customers.
The industry mainly uses one of two treatments to control melanosis: sodium metabisulfite powder and 4-hexylresorcinal. The latter is the newer, and in some ways better, treatment, as the more widely used sodium metabisulfite powder is cheaper, but carries some dangers to those handling it as well as to some of those consuming it.
Sulfites are a common preservative used in wine and in ham, to keep the appealing pink color from turning brown. They were also formerly used on lettuce for salads in restaurants, especially when salad bars became popular, until their use on fresh fruits and vegetables was banned by the Food and Drug Administration (FDA) in 1986. This was in response to a petition from a consumer group, the Center for Science in the Public Interest, which had wanted an even wider ban, due to the 13 deaths linked to the chemical up to that time. But since the most deaths were related to salad bars, this use was considered the highest priority.
For most people, sulfites are safe. But some people, mainly asthmatics, suffer an allergic reaction. These people must carefully avoid foods treated with sulfites, including wine, dried fruits, some preserved meat products – and shrimp.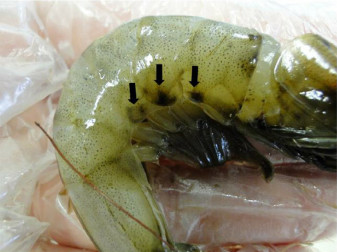 According to FDA, people who are sensitive to sulfites account for about a hundredth of the population – which works out to about 3.2 million Americans. The agency requires that treated foods be labeled for their safety, but the label may cause others not to buy, since warning labels may be viewed negatively even by those who do not have any reaction to sulfites. This is the main rationale for developing an alternative treatment that is non-allergenic and does not require such labels.
The organic compound 4-hexylresorcinal is used in throat lozenges and skin creams (including Neutrogena products), but it also binds and inactivates the enzymes responsible for black spot in shrimp. There are two main brands available for use with shrimp: EverFresh and PrawnFresh.
The European Union, Canada, South Africa, Australia, and China have all approved 4-hexylresorcinal as a processing aid. In the U.S.A., it has the FDA status of "Generally recognized as safe (GRAS)" However, Japan, one of the world's largest shrimp markets, has not yet approved its use – apparently because no application for approval has been initiated.
Besides the issue of allergies and warning labels, 4-hexylresorcinal has some other advantages, as well as a few disadvantages. Sodium metabisulfite can irritate the eyes and nose of the workers handling it and can produce sulfur dioxide gas when in contact with water, which can be deadly for workers in the confined space of ship's hold.
According to a 1993 study by the University of Texas Medical Branch in Galveston, the sodium product can react in certain conditions with water and acids from the shrimps' bodies to produce sulfur dioxide. The U.S. Coast Guard reported that between 1970 and 1993, use of the chemical in unventilated holds of shrimp boats in warm waters during warm months of the year caused 11 deaths and 32 injuries. This is not a danger with 4-hexylresorcinal.
The disadvantage of 4-hexylresorcinal is mainly its higher cost. A 2006 study by the Queensland Department of Primary Industries and Fisheries in Australia resulted in a cost for a 60-second dip in sodium metabisulfite at AUD 0.026 (USD 0.019, EUR 0.017) per kilogram of shrimp processed, while a two-minute dip – the recommended time – in EverFresh cost AUD 0.128 (USD 0.01, EUR 0.009). Soaking for 24 hours gave a better cost performance, but may result in higher residues.