Top 25: Seafood Product Innovation
Published on
September 23, 2019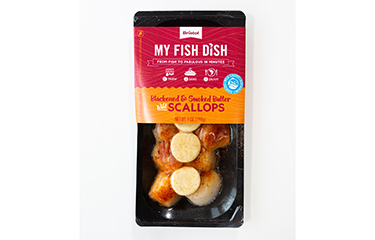 Bristol Seafood | My Fish Dish
Portland, Maine-based seafood supplier Bristol Seafood's My Fish Dish range has a simple goal: simplicity itself. That, after all, is the way to get people to eat more fish, according to Bristol CEO Peter Handy.
"The big view is that we want people to eat more fish. In our initial path to being able to crack that is not committing fraud, making high quality stuff, and sharing the story behind it," Handy told SeafoodSource. "That was our first go at it, and with scallops and groundfish especially, those are areas where telling the truth and producing quality and sharing stories matters a lot."
"One of the things we've found is that this resonates with a consumer, but there are other consumers who are looking for something that is simpler to cook and provides a restaurant-like experience at home," Handy continued. "So there's a consumer we're missing, who wants all the things I just said, but also wants us to make it a little easier for them to cook something at home."
First announced in March 2019, the My Fish Dish line features high-quality seafood along with seasonings, sauces, compound butters, and marinades "to give the home cook a convenient way to achieve restaurant results," the company said. Among the initial flavors in the range are Blackened & Smoked Butter Wild Scallops, Lemon & Herb Butter Wild Scallops, Sesame & Seaweed Teriyaki Wild Scallops, Blackened & Smoked Butter Wild Cod, Lemon & Herb Butter Wild Cod, and Sesame & Seaweed Teriyaki Wild Cod.
For Handy, the range speaks to a need he sees most consumers relating to.
"It resonated for me, because we have three kids – five, three, and one. Even owning a seafood company and having access to a lot of seafood, there are nights when we get home and [my wife's] like 'I just want something that's much easier to cook that isn't a Hot Pocket,'" he said.
My Fish Dish aims to "fill that void" with products that have clean ingredients statements, that are high-quality and sustainable, as well as simplistic and easy in their preparation requirements.
"Simplicity. It doesn't have to be easy, but it has to be simple," Handy stressed regarding the general makeup of the product.
Bristol Seafood Vice President of Marketing Iréne Moon said the range seeks to bring accessibility to seafood.
"Making seafood more accessible is really what we were looking for. I think we've done foodservice for a very long time at a high level, so chefs know us for our high quality seafood, but the consumers don't really know us yet," Moon said. "We really looked to make My Fish Dish accessible by, first thing, making it stand out on the shelf, making it pop, because if they don't see it, they're not going to buy it. So make it stand out on the shelf, but also show consumers a really quick one-two-three instruction guide on the back [of the product]."
"It's that simple, anybody can do it – that's what we're hoping to convey with the packaging, saying 'You can do this; it's really easy,'" she summarized.
Of course, a part of making My Fish Dish accessible involves pricing, according to Moon.
"The other thing that we knew was really important was keeping the price down – keeping the price at a level where the consumer is not going to say, 'I really want to put more seafood in my diet, but you know what, chicken is so much cheaper – why don't I go back that, then I know how to cook that.' We want to overcome that by making sure that stays at a reasonable level, we don't want to lose consumers to another category," she said.
Ultimately, "the taste has to be good as well, or they'll try it once and never come back," Moon explained.
The product line represents, for Bristol – which specializes in the sale of its select core species, including scallops, long-line caught Norwegian haddock, Alaskan cod, and wild Maine mussels – a new evolutionary phase in retail development.
"This is our evolution in taking the next step inside of retail," Handy said.
Photo courtesy of Bristol Seafood