Global market brightening for pollock
Published on
January 23, 2018
Whether its as high-grade surimi in Asia, as a substitute for cod in Europe, or as deep-skinned, breaded product in the United States, demand for pollock is rising globally, according to Rasmus Soerensen, the executive vice president of global sales and marketing for American Seafoods.
Speaking at the 2018 Global Seafood Marketing Conference in Miami, Florida, Soerensen said pollock production has been "surprisingly stable," with the total catch in 2016 estimated at 3.4 million metric tons, up from 3.2 million tons in 2015.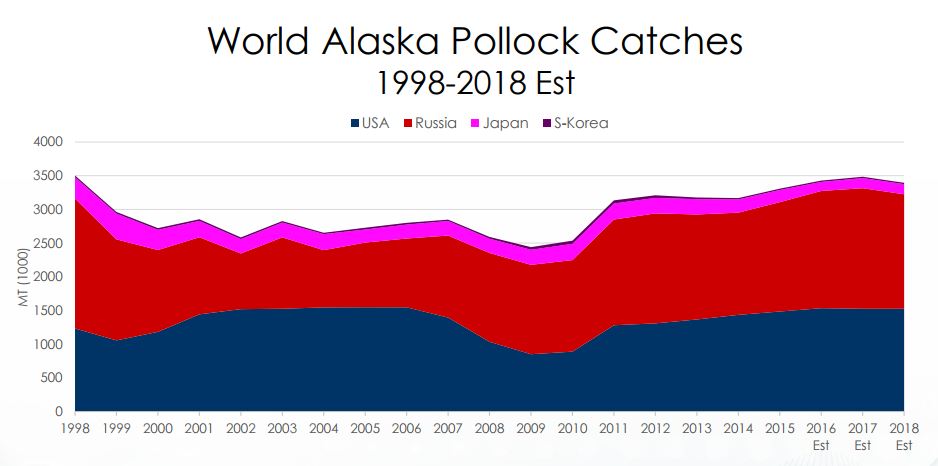 Moving into 2018, production will remain fairly stable, with product innovation and an increasing popularity of existing products pushing sales higher, Soerensen said.
The challenges for pollock started in 2015, when a larger processor in Europe ran into financial trouble and a large amount of pollock blocks moved into an "already very well supplied' market uncommitted, Soerensen said.
"That 'over' supply has now completely disappeared, and we're now in a situation where there's a shortage globally for pretty much all formats of pollock," he said.
The explanation for why so much pollock was snapped up so quickly reveals how popular the species is globally. First, interest in pollock has gone up "dramatically" in Europe, where it for instance is being used with more frequency as a substitute for cod products, particularly in Northern Europe. Secondly, domestic consumption in the United States is ticking upwards, especially as pangasius and tilapia have become harder to import into the country due to regulatory issues. Surimi consumption increased by between five and seven percent in North America in 2017.
"The pullback of tilapia and pangasius has offered opportunities for pollock to take more U.S. market share," Soerensen said. "You could see that happen as the market went from oversupplied to undersupplied in a matter of a few weeks."
Lastly, in Asia, demand for pollock is being driven by the growth in snacking and in quick-service restaurants. China, in particular, has seemingly insatiable demand for any seafood product from Alaska, Soerensen said. Deep-skinned pollock has done well there, he said, and Chinese consumers are moving from eating domestic surimi produced with carp to eating surimi made from Alaska pollock. Young people in China are also eating more surimi snacks, Soerensen said.
Product innovation has played a major role in the increasing popularity of pollock, Soerensen said.
"There have been a lot of initiatives in the industry to develop new formats, develop new packaging and products, and to develop new markets for pollock as well," he said. "It's not first time the industry has tried to innovate and take more share from the plain-portion market, but in the past, the timing hasn't been perfect. But the timing now seems to be right with the tightness in the [larger] whitefish market.
North American retailers, in particular, are jumping on the trend, "asking for producers to bring them something new to put on their shelves," Soerensen said.
Another major development on the pollock front in 2017 was the move by Russian fishing companies to renew their pollock-fishing fleets. Consolidation in the marketplace has allowed these firms to invest more in their own assets, and several companies announced they will build new vessels capable of doing filleting on-board, Soerensen said.
"The renewing of the Russian fleet is a new phenomenon, and it will be interesting to see what happens next five to 10 years, as Russia gains a greater capability to produce fillets. They're getting closer to capacity with their current fleet, and the [new builds] will allow them to focus more on own backyard, and less on [headed-and-gutted] production for other markets," he said. "That's a very positive development from our standpoint, as it increases the overall quality of products on the open market."