Get to know the Seafood Champions of 2018
Published on
June 20, 2018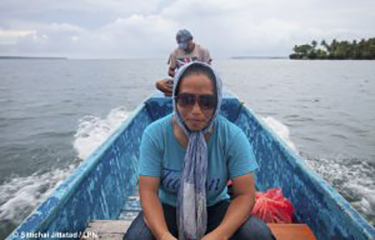 Thai labor reformer Patima Tungpuchayakal wins 2018 SeaWeb Seafood Champion Award for advocacy.
By Aaron Orlowski
The workers were from Thailand, Myanmar, Cambodia, and Laos, trapped far from home in Indonesian waters. Some had been drugged and forced to work on the fishing vessels, while many others were sold there.
They ended up as modern day slaves, suffering, at times, debilitating injuries, losing hands or eyesight. Lacking formal employment documents – boat owners often confiscated passports and other papers – they couldn't escape, and they were often paid little to nothing for their labor. Some hadn't been home in decades.
Their plight spurred Patima Tungpuchayakal, cofounder of the Labour Rights Promotion Network (LPN) in Thailand, to lead a series of rescues between 2014 and 2016, repatriating nearly 3,000 fishermen trapped on islands in Indonesian waters to their home countries.
This month, Tungpuchayakal was chosen as the 2018 SeaWeb Seafood Champion for advocacy.
Today, Tungpuchayakal continues to assist, rescue and rehabilitate trapped and enslaved workers. She also brings attention to the issue by working with media outlets and meeting with government officials. A few months ago, former fishermen with LPN described their experiences to Thailand's prime minister.
The attention on her work is "so valuable," Tungpuchayakal told SeafoodSource.
"I did not expect to become so well-known," she said. "I just want to assist people and really hope that the situation would be better … I would like civil society to know and be more aware about the issue and help solve the problem."
In 2004, Tungpuchayakal launched the Labour Rights Promotion Network in Thailand with her husband Sompong Srakaew, a well-known Thai labor rights advocate. LPN first started working on conditions in the Thai seafood industry in 2006, when 66 fishermen – some seriously ill and needing treatment – asked the group for assistance. Of the 66 fishermen, 39 died on the way home from Indonesian waters.
The calls for help grew. Between 2006 and 2014, LPN received 128 complaints about fishermen leaving from Thailand to work in Indonesian waters. A fact-finding trip to a series of Indonesian islands in 2014 led to the rescue of the 3,000 fishermen over the course of seven trips, with LPN coordinating with government officials in multiple countries, the United Nations and local and international NGOs.
"Nobody had the mandate or the funding or the political status to even take a look," Katrina Nakamura, who has known Tungpuchayakal since 2013 and is the founder of the consultancy Sustainability Incubator, told SeafoodSource. "Patima took them all the way home with her two hands. She took people back to their villages and their families on her own."
LPN provides assistance to returnees post-rescue, including legal aid, wage compensation, and psychical and psychological treatment. The organization continues to receive pleas from families to assist relatives still trapped, and is planning to assist more fishermen.
The Thai government has implemented various measures to prevent exploitation of migrant workers, Tungpuchayakal said.
Employment contracts must now be written in two languages, one of which the employee understands. Employees must be allowed to keep their contracts with them, and standard contracts must stipulate that employers pay workers monthly wages via bank transfer. Migrant workers must be allowed to switch employers, and children under the age of 18 are not allowed to work in dangerous industries such as the fishing and seafood processing.
Seafood buyers and consumers can also drive change, Tungpuchayakal said.
"Consumers also play a vital role in order to put pressure on products. They are more aware of traceability and transparency. They do not want to buy a product from slavery or child labor," Tungpuchayakal said.