Seafood Expo North America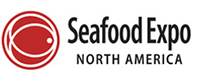 Boston, USA
MARCH 10-12, 2024
The Seafood Marketplace for North America
Seafood Expo North America attendees meet with thousands of suppliers to find the newest fresh, frozen, and packaged seafood products and stay current on industry trends.
Seafood Processing North America attendees share ideas, find new processing equipment, make connections and get the news on preparing, delivering and packaging seafood products.
If you are a seafood professional in the North American market, this is a must-attend event.
Learn more about the upcoming edition by visiting the event website.
---