The Top 25 Seafood Product Innovators – 2021 Edition
Published on
September 28, 2021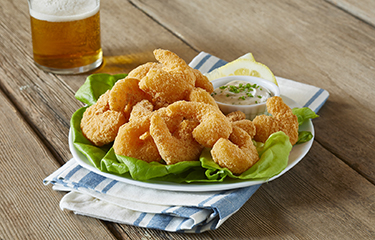 Chicken of the Sea
A shared appreciation for convenience and great flavors has been driving seafood purchases for consumers and operators alike over the past few years, according to Thai Union Group-owned Chicken of the Sea.
"We're seeing innovations that are driven by convenience and great flavor, for both consumers and for operators," the company told SeafoodSource.
As the COVID-19 pandemic gripped North America, Chicken of the Sea met consumers with familiar favorites, in addition to newer value-added items.
"Core tuna, our classic Chicken of the Sea Chunk Light tuna, did exceptionally well in the pandemic," the company said. "Consumers were gravitating towards familiar favorites, and we were happy to be included in that product set. Consumers were forced into staying at home, and our Chunk Light sales were up as a family favorite."
Most recently, as of June 2021, the company introduced several new products into U.S. foodservice and retail channels, centering on shrimp and crab. The rollout included seven frozen value-added shrimp products, along with crab cakes. According to Thai Union North America President and CEO Bryan Rosenberg, Chicken of the Sea decided to spotlight shrimp in its newer offerings after extensive consumer research and feedback across channels yielded a sentiment that there was "white space" in the category.
"At the moment, we are seeing tremendous market penetration and growth within the value-added frozen shrimp category – USD 200 million [EUR 165 million], with 33 percent growth in retail – and a strong emphasis on convenient seafood," Rosenberg said in June, referencing IRI Worldwide data for the 52 weeks ending 6 September, 2020.
Chicken of the Sea's latest Crispy Stuffed Shrimp appetizer line comes in three flavors: Creamy Wonton, Creamy Jalapeno, and Creamy Garlic and Spinach. Meanwhile, its new breaded shrimp items include Perfectly Crisp Shrimp, Maple Sriracha Shrimp, Nashville Hot Shrimp, and Buttermilk Ranch Shrimp. Rosenberg said the company convened its innovation teams from both Chicken of the Sea Frozen Foods (COSFF) and Chicken of the Sea International (COSI) to finesse the flavors of the launched items.
"A key insight we noticed in retail is that shrimp had limited flavor variety beyond traditional breaded and battered and coconut, leaving an opening for us to push the category forward with indulgent flavors and unique breading systems or applications," Rosenberg said in June.
Chicken of the Sea said its frozen Perfectly Crispy Shrimp "has been a great solution for operators – the proprietary coating keeps shrimp crispy for up to two hours in the hot case."
"We've seen the trends that consumers are getting more ready-to-eat items at their retail deli counter and they are less likely to order breaded items from restaurant takeout menus to avoid the sogginess that usually occurs. This item solves for both," the company said. "Additionally, the frozen Crispy Stuffed Shrimp line provides decadent appetizers or meals with the convenience of home. Ready in just a few minutes, they are full of flavor for a delicious restaurant-style experience."
The company pointed out that it began developing its latest frozen items before the pandemic, "as we saw the market trends, but the behavior change from consumers and operators as everyone adjusted to life in COVID increased the need and accelerated the trends."
"More people are preparing seafood at home, experimenting with new flavors, and ordering takeout more than they ever have. Operators are working on thinner margins and trying to manage their labor costs. Perfectly Crisp and Crispy Stuffed Shrimp both solve for those needs," it said.
Chicken of the Sea's latest crab cake offering showcases the firm's expertise and history of sourcing blue swimming crab, and the species' growing popularity among U.S. consumers, Rosenberg added.
"Moving into the value-added space with a consumer favorite was a clear growth opportunity," he said.
In late summer of 2020, the company debuted another key, innovative line to its portfolio roster: Wild Catch, a range of shelf-stable hand-selected cuts of fish packed with water and sea salt. Packed in 4.5-ounce containers, Wild Catch consists of three species varieties, including responsibly wild-caught, preservative-free Albacore Tuna, Ahi Yellowfin Tuna, and Alaskan Salmon.
Wild Catch seeks to capitalize on the growing trend towards the consumption of healthy, clean protein, Chicken of the Sea International Director of Innovation Patty Essick said in July 2020.
"Whether topping a salad for lunch, adding as the finishing touch to your favorite pasta dish for dinner, or enjoying right out of the cup as a snack, Wild Catch is perfect for anyone looking for a nutritious, high-quality protein any time of day," Essick said, adding that the products pack 23 grams of protein per serving.
With 2022 on the horizon, Chicken of the Sea said it's still "focused on addressing the trends in the market."
"For consumers, it's going to continue to be about convenience and restaurant-quality at home. For operators, we are looking at where we can provide products and services that help them navigate through the changing market," the firm said.
Photo courtesy of Chicken of the Sea